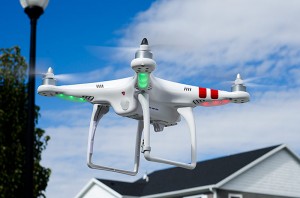 This is geeky beyond measure….
I'm in the "laboratory" getting ready for an aerial shoot tomorrow.  My hexacopter is good to go, but in case I need another flight or backup I was getting my DJI Phantom ready to fly.  I had just balanced some new props and was walking up the stairs when the doorbell rang.  Quad in hand, I answered the door.  It was a neighbor kid.
"My rocket is on your roof."
He had launched a rocket from his yard and miscalculated the wind.  The parachute was hanging off the edge of the roof and the rocket was on the roof.  I told him I'd be happy to try taking the Phantom up there and seeing if I could get close enough for the wind from the props to blow the rocket down.  He, his father, and three other neighbor kids thought that was a brilliant idea.
I was a little worried.  I just spent a bunch of money on new props.  I'd hate to break them AND leave the damn Phantom on the roof.
I piloted up to the roof and positioned the quad above the rocket.  It was a bit breezy so I had to manipulate it a bit to keep it in position, despite being in GPS mode (that's another discussion).  I lowered to the point where the prop wash hit the rocket and voila!  The rocket blew down and I was the hero of the neighborhood.
The neighbor kids raved how cool the Phantom was to which I said, "you should see the BIG bird!"
I then busted out the big hexacopter and did a neighborhood flight with a very attentive audience.  They loved it, and I got a test flight in on the big bird after having to reset the gimbal settings.