Award-Winning Typhoon H Plus with One-Inch Sensor and Enhanced Airframe Ideal for Photographers, Creative Professionals and Small Drone Service Providers
CORONA, Calif. (June 12, 2018) — Yuneec International, the world leader in electric aviation, today announced its award-winning Typhoon H Plus with Intel® RealSense™ will be available to consumers at Best Buy and Yuneec.com. Yuneec's most powerful consumer product, equipped with a professional grade one-inch sensor, an all-new hex airframe and intelligent obstacle navigation is optimized for photographers, creative professionals and small drone service providers.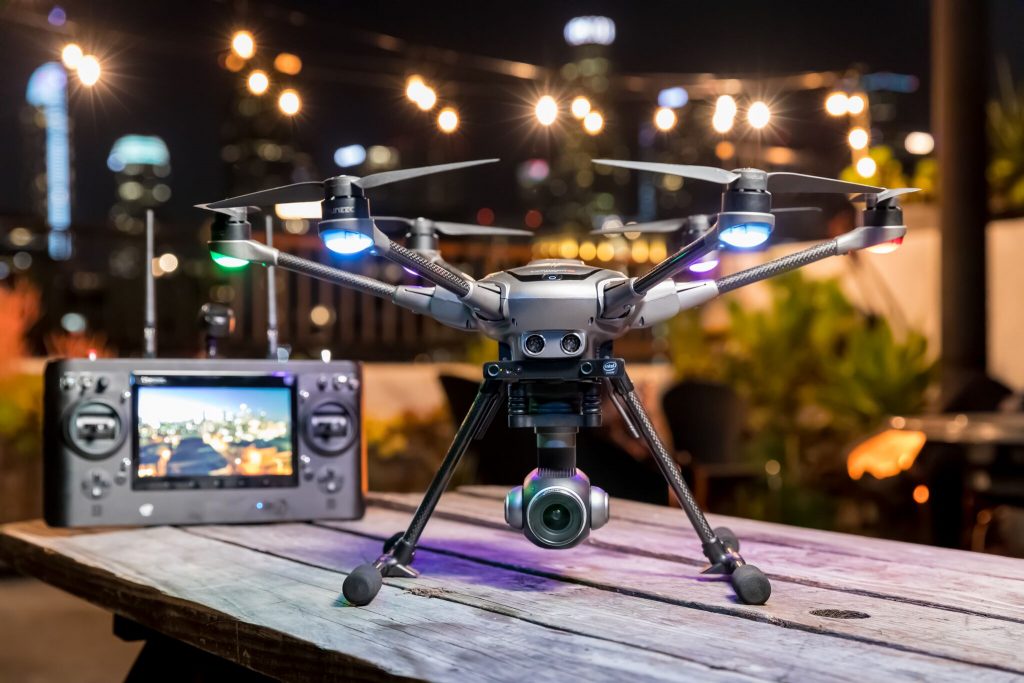 The Typhoon H Plus with Intel® RealSense™ is packed with professional image quality that photographers at any skill level will enjoy, including a high aperture one-inch sensor camera capable of 20 megapixel stills and 4K resolution video at 60 frames per second. The new model also boasts an improved low-light performance, thanks to larger aperture optics and extended ISO range, and comes standard with a continuous rotation gimbal combined with retractable landing gear that provides seamless 360-degree unobstructed views. The Typhoon H Plus with Intel® RealSense™ also has a variety of flight and image capturing modes, including Point of Interest, Orbit Me, Curve Cable Cam, Journey Mode, and Team Mode for film and photography teams.
"The H Plus with Intel® RealSense™ was developed to expand creative possibilities and these improvements underscore our commitment to developing industry-leading technologies," said Michael Jiang, CEO of Yuneec International. "Virtually every drone pilot has experienced varying flight conditions and faced challenging shot requirements in the field. The hexacopter airframe provides pilots with unrivaled stability, redundancy and allows pilots to effectively capture necessary shots with the improved one-inch sensor."
The Typhoon H Plus with Intel® RealSense™ features Yuneec's all-new, larger, highly stable six rotor hex airframe. With a 40 percent reduction in noise from previous hex models, and stable flight in winds up to 30mph, H Plus leads its category in safe, balanced flight and quiet operation. Along with enhanced stability, the six-rotor safety failsafe system allows Typhoon H to remain stable and land if a motor should fail.
The Typhoon H Plus includes Intel® RealSense™ Technology, a sophisticated collision avoidance system that detects obstacles and intelligently navigates around them. With this feature, drone pilots can worry less about obstacles and focus more on their flight path and camera work. Other innovative safety features include ultrasonic proximity detection to assist in avoiding large obstacles, which is operational when Intel® RealSense™ Technology is inactive.
Additionally, the Typhoon H Plus with Intel® RealSense™ is accompanied by a newly redesigned Android-based ST16S controller, which includes a large, high brightness seven-inch integrated display and HD 720p video downlink for stunning real-time video reception.
The Typhoon H Plus with Intel® RealSense™ Technology will retail at $1899.99 and be available on July 1 at Best Buy Stores nationwide.
For more information about Yuneec visit Yuneec.com Also visit us and join the conversation on Facebook, Instagram and Twitter.
H520 Builds Upon Yuneec's Proven Six-Rotor Platform and Incorporates Industry-First Commercial-Grade Features and Software Developer Kit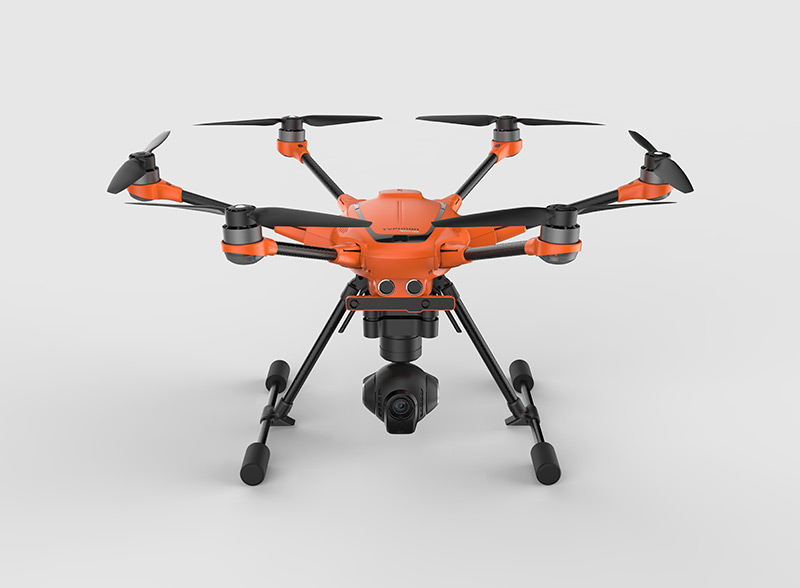 ONTARIO, CA (January 5, 2017) — Yuneec International, a world leader in electric aviation, today announced the expansion of its commercial UAV offerings with the unveiling of the H520, an advanced six-rotor drone for commercial applications. The H520 builds off Yuneec's proven six-rotor platform and incorporates industry-first commercial-grade cameras and applications for high-end commercial use. The H520 offers longer flight time, greater payload, modular design and enhanced components while staying true to Yuneec's standard of excellence in aviation precision and safety.
The H520, engineered for optimal use in industrial and commercial environments, features high visibility Hazard Orange fuselage and a six-rotor design capable of emergency flight with only five rotors. A 360-degree, 3-axis gimbal coupled with retractable landing gear provides an unobstructed view from any angle. The camera and gimbal are capable of a 20 degree up-angle for upward-looking inspections.
Yuneec will offer three camera options that include the CGO-ET dual thermal RGB camera, CGO-CI seven-element inspection-ready camera and CGO-3+. The CGO-ET is specifically designed for law enforcement, Search & Rescue and solar inspections applications and is the industry's first thermal and residual light combination. Targeting the broadcast, cinema, and vertical inspection markets, the CGO-CI's longer FOV and edge-to-edge distortion-free lens captures sharp, high-contrast imaging, which meets the needs of filmmakers and broadcast producers as it is the industry's first long-focal lens camera. Additional upgrades to the H520 camera options include a panoramic shooting function along with burst, time-lapse and metering modes.
"With its suite of advanced features, the H520 is dependable, reliable and capable of fulfilling virtually any commercial need," said Yu Tian, Group CIO and CEO of Yuneec Technology Co., Ltd. "Pilots can fly with confidence knowing they have an array of camera options for a variety of situations and industry-leading safety features including intelligent obstacle navigation with Intel® RealSense™ Technology."
Challenging angles and locations are more accessible with the safety backup of Intel RealSense Technology, a feature found on the H520, which enables the aircraft to intelligently navigate around objects, taking safety and flying options to the next level. Coupled with the industry's only user-variable speed control, pilots can confidently approach critical structures without concern of impact.
The H520 comes with the professional-grade Android-based ST16 controller, which has a large 7-inch integrated display and HD 720p video downlink for real-time video reception, and an HDMI uplink for distribution to external monitors
Yuneec will launch a software developer kit (SDK) platform in Q2 of 2017. The SDK platform allows third-parties to develop value-added applications and services on the H520 platform for a variety of industries and commercial markets.
The H520 maintains Yuneec's focus on safety with features such as Geo-fencing, Variable Speed Control, Dynamic Return Home and Low-Battery Return Home. The H520 will be available Q2 of 2017 and will be offered in a variety of configurations with prices ranging from $2499 to $4499For more information visit www.yuneec.com.
While on vacation with my family and my large hexacopter in the car, we stopped by for some hiking and sight seeing at the amazing red rock area Valley of Fire State Park, about a 40 minute drive northeast of Las Vegas. I had to pull over and take a picture of this sign.
Valley of Fire would be a goldmine for aerial photography and video. It would also be a terrible place to crash, either into the red rock or into tourists. I can completely understand why they have a no-drone policy and for those of us who fly I think these signs are going to become more and more common.
While at Utah's Snow Canyon State Park I talked to the park manager about drone flying there. She said they allow it via permit and that she was the one who have out those permits. A two week notice or more is needed to get the permit. When applying for the permit, information like where and when and for what purpose is required. She didn't say no, yet.
I was told that state parks have individual regulations with regards to drones, so before you go give them a call. You might have to jump through a couple of hoops but you may get the chance to fly and capture some great material. Be honest and upfront with them and they'll treat you with more respect.