Breeze is Controlled via Mobile Device, Includes Autonomous Flight and Instantaneous
Social Media Sharing Capabilities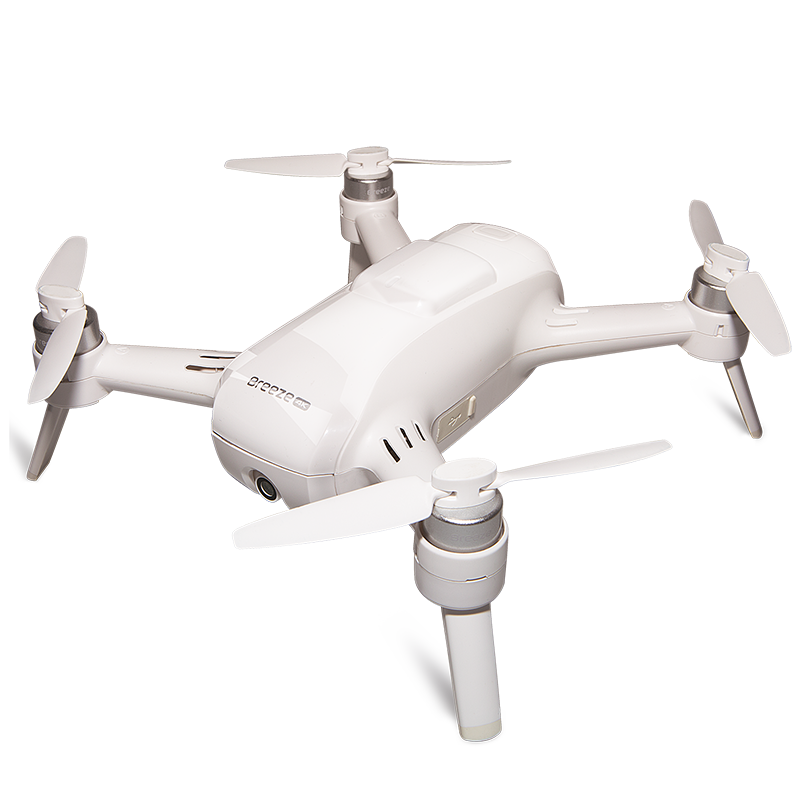 ONTARIO, Calif. (August 30, 2016) — Yuneec International, the world leader in electric aviation, today announced the availability of the Breeze, creating an all-new mass consumer category for the brand. The Breeze, the ultimate flying camera, is controlled via mobile device, has five easy-to-use flights modes and is able to seamlessly share to social media channels. The Breeze is now available at a suggested retail price of $499.99.
The Breeze is a flying camera designed to take ultra high resolution aerial photos and videos of the consumer. Its compact size makes the Breeze easy to transport. It can easily fly both indoors and outdoors and is intuitively controlled by a mobile device. The "Breeze Cam" APP, available for iOS and Android devices, includes five automated flight modes which makes getting the perfect shot easier than ever before. Once users complete their flight, they can download the aerial photos and videos instantly through the Breeze APP to share across their favorite social media channels: Facebook, Twitter, Youtube, Instagram and Whatsapp.
"With the popularity of selfies at an all-time high, we set out to create the ultimate, user-friendly flying camera which allows people to take their photos to new heights," said Tian Yu, chief executive officer of Yuneec International. "The Breeze includes the Ultra HD and flight mode capabilities of our top end drones, and because of its size and ease of use, the Breeze seamlessly integrates into just about any activity, whether it's a first time outdoor adventure or yearly gathering with friends and family."
Yuneec is expanding its product lineup to make creative aerial possibilities available to even more consumers. The Breeze removes the intimidation of flying, while still providing the creative solutions consumers want to capture unique perspectives of their daily lives.
Yuneec offers a variety of creative aerial solutions, including the Tornado professional and the Typhoon enthusiast platforms. Yuneec's SkyView FPV headset is compatible with the Tornado H920 and Typhoon H as well as other drone and consumer electronics products with HDMI output. Yuneec also manufactures the E-Go 2 electric skateboard for efficient and fun transportation.
The Breeze is available for $499.99 at retailers nationwide. For more information visit yuneec.com.

Yuneec Releases First Person View Headset for Immersive Flying Experience
SkyView First Person View Headset Gives Users Ability to Pilot via Onboard Camera, Watch Movies and Play Video Games
ONTARIO, Calif. (August 4, 2016) — Yuneec International today announced the availability of its all-new SkyView first person view headset.
As the world leader in electric aviation, Yuneec is the first major consumer drone manufacturer to offer its own FPV headset that allows users
to operate via the onboard camera, watch movies, and play video games, among other capabilities. The SkyView FPV headset is now
available at a suggested retail price of $249.99.
The all-new SkyView is an enclosed FPV headset compatible with the Yuneec Typhoon H and Tornado H920. The headset is equipped with a
built-in 5-inch HD screen that transmits in 720p, a massive 75.5-degree field of view and a 16:9 aspect ratio for a stunning, life-like display.
While wearing the SkyView headset, pilots will be able to see exactly what the drone sees from its onboard camera – thanks to the built-in 5-
inch screen offering a true "first person view." With an ergonomic design, SkyView features a durable and adjustable headband that's
comfortable and can accommodate glasses. Once pilots complete their flight, they can connect SkyView via the HDMI port to playback videos,
watch movies, gaming, and more.
"At Yuneec, our engineers are always pushing the envelope to develop creative solutions that deliver the best experience for the consumer,"
said Yu Tian, chief executive officer of Yuneec International. "The SkyView FPV Headset elevates the flying experience for Yuneec pilots by
literally putting them in the driver's seat of their drone. While operating the drone, they'll have more confidence, enhanced perspective and
more creative possibilities at their disposal. When not flying, it's an incredible way for users to immerse themselves in video games and
Yuneec announced the expansion of its Typhoon series with the unveiling of Typhoon H at the 2016 CES Show in Las Vegas. Typhoon H is
equipped with six rotors and a 360-degree gimbal, which allows unlimited panning for breathtaking 4K videos and 12 megapixel stills with the
all-new CGO3+ camera. In addition, the landing gear retracts during flight to seamlessly remove itself from the shot for unobstructed views.
Typhoon H also has a variety of flight and image capturing modes, including Point of Interest, Orbit Me, Watch Me, Follow Me, Curve Cable
Cam, Journey Mode, and Team Mode for film and photography teams. Innovative new safety features include ultrasonic proximity detection to
assist in avoiding large obstacles and a six-rotor safety failsafe system, which allows Typhoon H to remain stable and land if a motor should
Yuneec also offers the Typhoon H Pro package, which includes Intel® RealSense™ Technology. The Intel RealSense R200 Camera and the
quad core Intel® Atom™ processor module work seamlessly with the flight control firmware to add intelligent obstacle navigation. With a
combination of specialized cameras and sensors, this system recognizes each obstacle in its path and creates a 3D view of its environment,
which it maps and learns in real time. It then plans an alternate route and safely navigates around obstacles. This is a major advancement over
ultra-sonic collision prevention, which automatically stops Typhoon H short of obstacles, but cannot model the environment or intelligently
reroute around obstacles. The module also adds downward facing sensors to improve stability, enabling flight indoors or outdoors close to the
ground, even with poor GPS reception.
The Tornado H920 is a professional multirotor aerial photography and videography platform. It is compatible with two camera options: the
industry standard Panasonic GH4 and Yuneec's CGO4 gimbal camera. The H920 features landing gear that retracts during flight to
seamlessly remove itself from the shot for unobstructed views, is equipped with GPS positioning, compass orientation, and pressure sensor
lock altitude, and can handle a payload up to five kilograms.
The SkyView FPV Headset is available for $249.99 at retailers and online at www.yuneec.com/skyview