I've been having a blast making "cinematic" videos with my new slow flying cinewhoop. It is a GepRC CineLog35 V2 HD.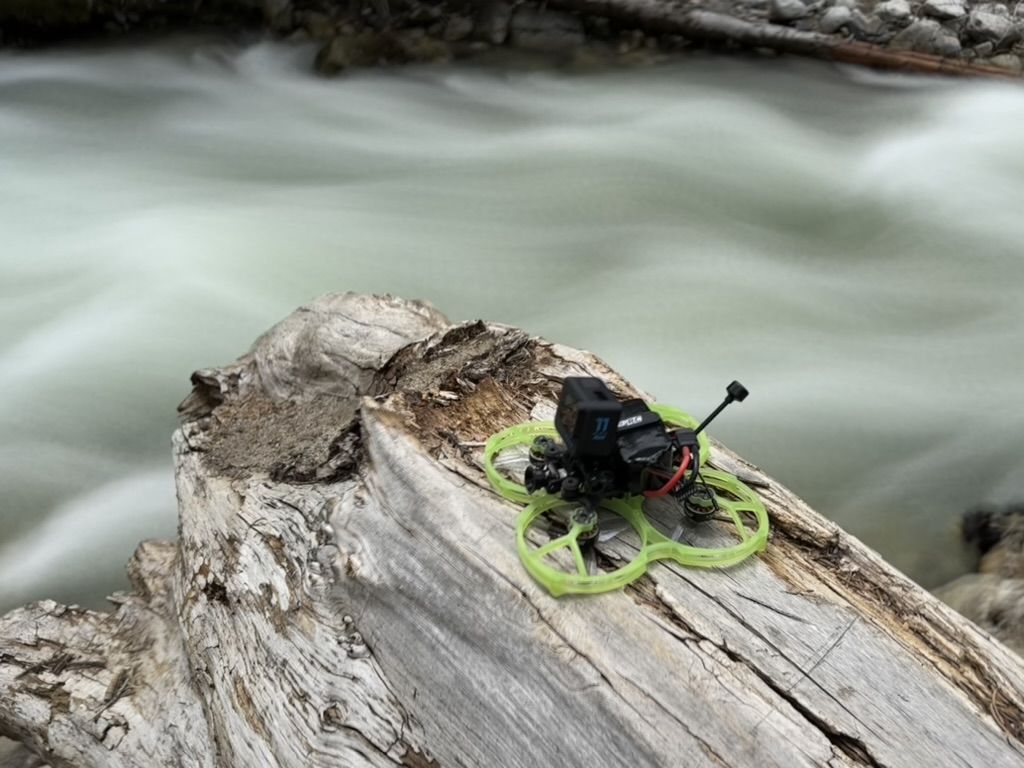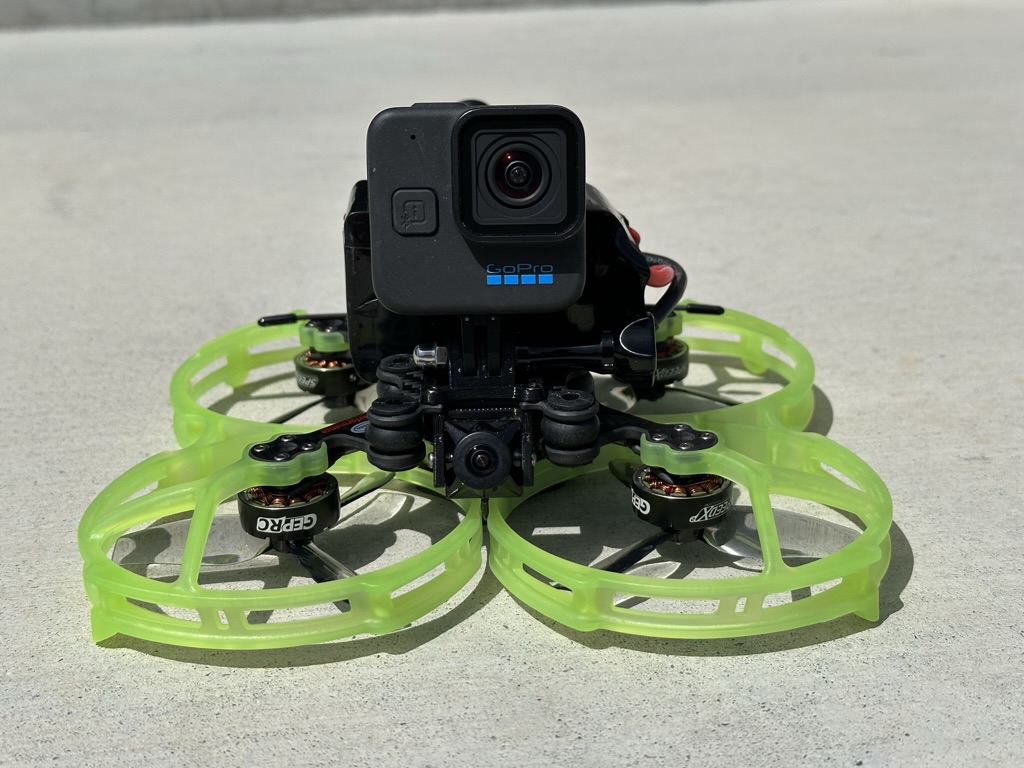 Here's a sample video of the CineLog in action. This video has been very popular on twitter, over 60K views. This was only my 3rd flight with the drone and with a GoPro mounted.
Testing out my FPV skills and golf course flyover skills at the same time.
I've finally built my first 6S based FPV racing quadcopter.  After quite a bit of research I chose the Armattan Chameleon frame. It was highly rated and comes with a lifetime warranty.  Below is a shot of the main parts of the frame, after I got the motors and 4in1 esc wired. The bottom plate is solid, 4mm thick. I know it's possible, but to break this frame would mean a very hard crash into hard surfaces.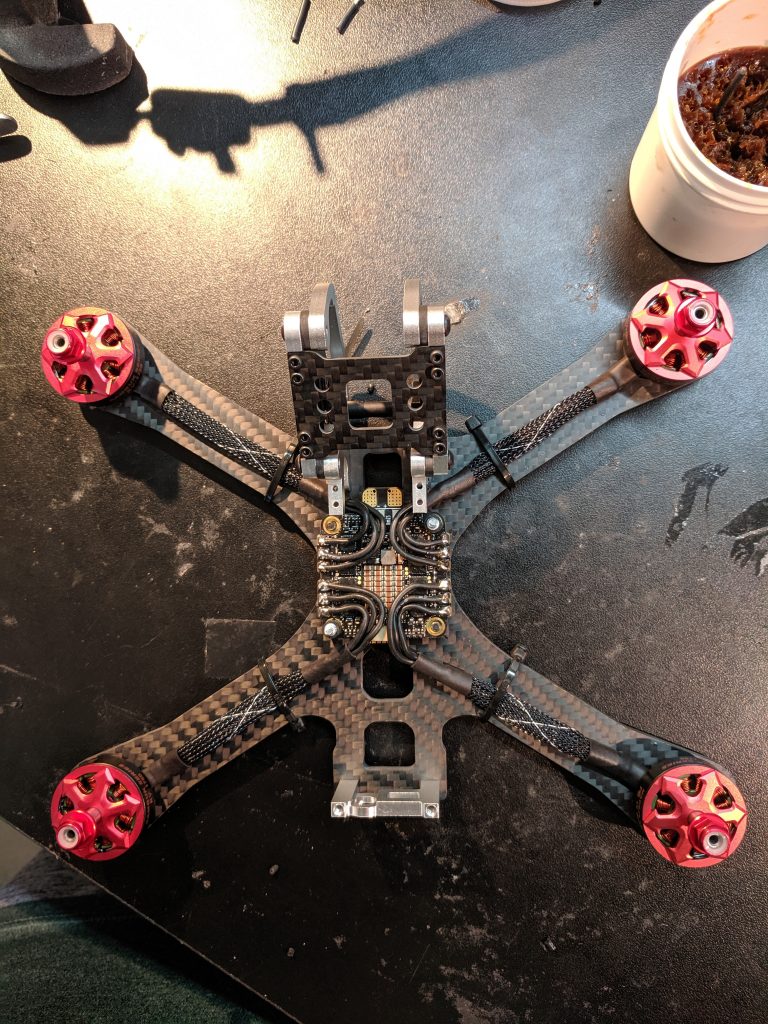 I thought there would be more room inside this, but there wasn't as much as I thought. So I had to tuck the receiver under the front behind the camera, and put the cap and video transmitter in the back. See below.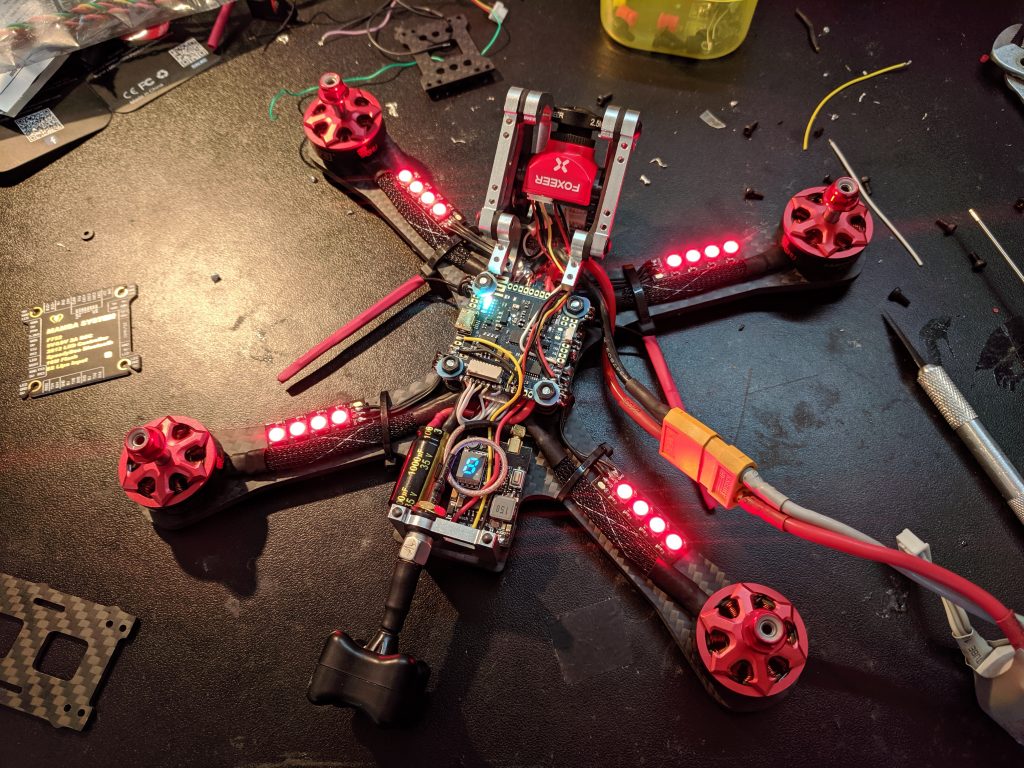 I went with a Foxeer Falkor 1200TVL Mini/Full Size Camera  but that's not what I would recommend. It doesn't fit correctly.  It "works" but is too wide.  Armattan used to recommend cameras for this but that recommendation has been removed from their website.
Parts List
Armattan Chameleon FPV Frame 5″
DYS Samguk Series Shu 2306 1750kv Motor
DALRC Rocket 45A 3-6s BLHeli_32 4-in-1 ESC
Diatone Mamba F722S Flight Controller
FrSky XM+ SBUS mini receiver
Foxeer Falkor 1200TVL Mini/Full Size Camera
16pcs HQProp 5×4.3×3 Tri-Blade Propeller 5 Inch
Lumenier AXII 5.8 RHCP
RDQ Mach 3 Video Transmitter 25-1000mW VTX 2-6S
Lumenier Digital RGB Arm LED Board
For batteries I'm currently going with the CNHL Black Series 1100mAh 22.2V 6S.  So far they're terrific. Tons of punch and provides long flight times.
Specs
| | |
| --- | --- |
| Frame Weight | 118g approx original.  Final beefed up main plate 128 grams approx |
| Motor to Motor | 220mm |
| Frame Shape | Freestyle Bus |
| Bottom Plate Thickness | 4mm |
| Top Plate Thickness | 2mm |
| Aluminum Parts | Aircraft Grade 6061 |
| Motor Mount Pattern | 22xx |
| Max Stack Height | 20mm |
| Warrantied Parts | All carbon fiber and alumi frame components |
Challenges
Soldering some of the pins on the Diatone Mamba F722S Flight Controller was a challenge. Super tiny.  I originally wanted to use a split type of camera like the RunCam Split.  I actually ordered a Foxeer Mix 2 but the extra board the camera comes with wouldn't fit.  Had I gone with separate ESC's mounted on the arms, perhaps that space in the FC stack would have worked, but I wanted to go with a 4in1.
In Flight
Having only flown up to 4S in the FPV world, the jump to 6S was quite stunning.  The amount of power this quad has is shocking.  I would not be surprised if this thing can hit 80-100mph.  Going back to flying my 4S or less quads is a bit of a shock now.  That raw power isn't there and because of that I've crashed a few times.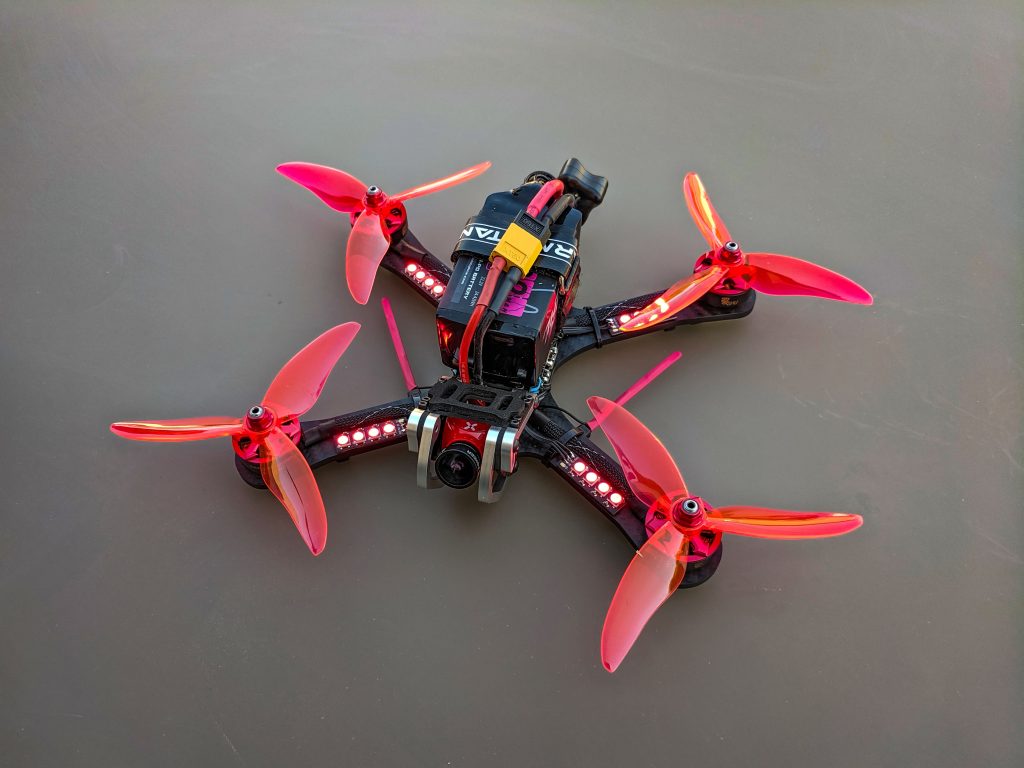 It's not just power and speed for this rig though.  If I want to fly very slow and smooth it is remarkably easy to control.  Perhaps that's also due to the F722S flight controller and the PID setup, but I haven't changed the defaults.  Quite amazing.
Flight Time
I'm used to flying FPV quads from around one to four minutes.  Amazingly this build is getting me SEVEN aggressive minutes and 10+ minutes of easy flying.  I'm extremely happy about that.
Needs Improvement
After a crash I'm noticing some noise in the video signal to the FPV goggles.  I've started to work on getting rid of that.  The noise only happens when the motors are on, leading me to believe it is dirty power.  The cap didn't clean it up, so I just moved it closer to the main voltage input.  I also have moved the power source for the VTX from direct battery to a 9-volt pad on the flight controller, along with supplying the 5-volt power to the camera from the VTX instead of the FC.  Weather permitting I'll do some tests shortly.
Final Thoughts
The Chameleon is super solid and flies incredibly. On 6S this this rips like no quad I've ever flown. Flight is smooth and the handling is terrific. I'll be mounting a GoPro Hero 7 soon. Can't wait to share some of that footage.