I'm happy to report I passed the FAA Part 107 test for commercial drone pilots, Unmanned Aircraft General – Small (UAG). I scored a 90% but I know I missed a dumb question or two. I can now utilize my incredible drone flying, photography and video skills to make some money safely and legally.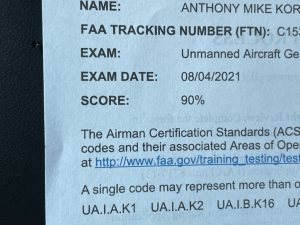 Comments on the FAA 107 Test
Below are the general categories I missed questions in. I missed 6. I kind of remember some of them. I can't believe I missed something on a METAR but I did.
Applicability of 14 CFR part 107 to small unmanned aircraft operations.
Definitions used in 14 CFR part 107.
Prior authorization required for operation in certain airspace.
Special-use airspace, such as prohibited, restricted, warning areas, military operation areas, alert areas, and controlled firing areas.
Aviation routine weather reports (METAR).
Balance, stability, and center of gravity
Importance and use of performance data to calculate the effect on the aircraft's performance of an sUAS.
One question asked if you can fly in prohibited or restricted areas. Everything I saw online said you can't fly in prohibited (i.e. Camp David). I believe you can fly in restricted. But it said the restricted needed permission from the org that operates the restricted area, not ATC. It was a confusing question. Maybe you can fly over prohibited with permission. I'll have to look that up.
The prior authorization required question may have been just a mistake on overlapping airspace on the sectional charts. I do remember one that I had to look at for a bit. The scenario was inspecting railroad tracks that started in G airspace and went through I believe E airspace, and back to G.  I said yes on needing ATC permission, but perhaps that was wrong.
The balance, stability, gravity question was on that asked about the turbulence behind a climbing airplane and what angle or length that turbulence is.  (I guess I won't be trying to fly in the turbulence of an airplane anytime soon).
The balance/stability question may have been regarding the stall speed of an airplane which is overloaded.
"Performance data to calculate the effect on the aircraft's performance"…. I don't remember. If it comes back to me I'll edit this.
Final Thoughts
I'm satisfied with a 90% but mad I didn't get closer to a 95% because I know a question or two were probably just dumb on my part.
That said, I'm happy to now be able to take some commercial drone piloting gigs here in Utah, for money!
There are many different categories and styles I can cover with my various flying skills and 25 different drones. I can do anything from real estate to sports action.  Below is a short list for SEO and reader purposes:
Utah drone pilot
Utah commercial drone pilot
Utah real estate drone photography
Utah sports action drone video
Utah aerial photography
Related: Utah Drone Services
WASHINGTON – The U.S. Department of Transportation's Federal Aviation Administration (FAA) today announced the eight companies that will assist the Federal government in establishing requirements for future suppliers of Remote Identification (Remote ID). Remote ID will enable Unmanned Aircraft Systems (UAS), commonly called drones, to provide identification and location information while operating in the nation's airspace.
The FAA selected the following companies to develop technology requirements for future Remote ID UAS Service Suppliers (USS): Airbus, AirMap, Amazon, Intel, One Sky, Skyward, T-Mobile, and Wing. These companies were selected through a Request for Information process in December 2018.
"The FAA will be able to advance the safe integration of drones into our nation's airspace from these technology companies' knowledge and expertise on remote identification," said U.S. Transportation Secretary Elaine L. Chao.
This initial group will support the FAA in developing technology requirements for other companies to develop applications needed for Remote ID. The applications will provide drone identification and location information to safety and security authorities while in flight.
The technology is being developed simultaneously with the proposed Remote ID rule. Application requirements will be announced when the final rule is published. The FAA will then begin accepting applications for entities to become Remote ID suppliers. The FAA will provide updates when other entities can apply to become qualified Remote ID USS on FAA.gov.
Drones are a fast-growing segment of the transportation sector with nearly 1.5 million drones and 160,000 remote pilots now registered with the FAA. The agency's ability to develop Remote ID technology simultaneously with the rule enables the FAA to continue to build on a UAS Traffic Management (UTM) system that has demonstrated global leadership through the small UAS rule and the implementation of the Low Altitude Authorization and Notification Capability (LAANC), which automates the application and approval process for most UAS operators to obtain airspace authorizations.
The Federal Aviation Administration (FAA) has important registration information for drone recreational flyers who registered in the FAADroneZone before December 12, 2017. Your registration has been automatically extended until December 12, 2020.
Why Was My Registration Extended?
The National Defense Authorization Act for 2018 restored the FAA's registration rule with respect to model aircraft and recreational flying. If you registered prior to December 12, 2017, and did not request to have your registration information deleted, the FAA extended the expiration date until December 12, 2020, which is three years from the rule restoration date. If you requested a refund of registration fees, you would have had to re-register again after December 12, 2017. Therefore, your expiration date would now also be December 12, 2020, or later. At this time you can retain your registration number. 
What Should I Do Now?
You do not need to do anything to extend your registration expiration date, this was done automatically.
To print an updated registration card: Login to the FAADroneZone, select the Recreational Flyer Dashboard, and select Print. 
When Will I Need to Renew My Registration?
The FAA will send out a registration renewal email notification 180 days prior to your registration expiration date.
When your registration renewal is available, your FAADroneZone dashboard will include an option to "Renew."
Please note: You cannot renew earlier than 180 days prior to the registration expiration date. No third-party vendor can renew your registration for you at this time.
How much does it cost to renew/register?
$5 through the FAADroneZone.
Do I need to register each drone/aircraft?
If you are registering as a Recreational Flyer, you only register once and use the same registration number on all drones that you own and intend on using for recreational flying. If you are trying to register under Part 107, then you will register each drone individually and each drone will get a separate registration number.