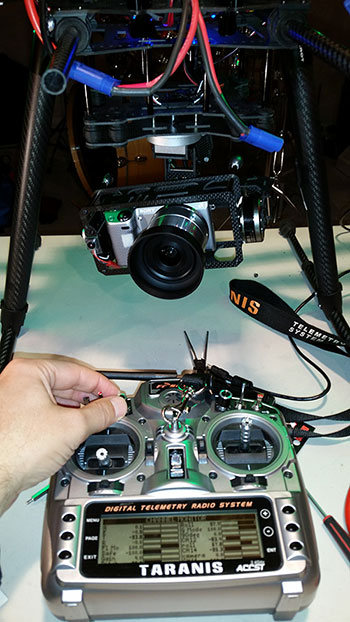 The 3-axis gimbal (camera stabilizer) on my large hexacopter was tuned and configured fairly well a month or two ago.  As winter came, those settings become useless.  Cold temperatures muck up the accelerometer and gyroscope and the footage is unusable with the vibrations and big horizon shift.
In the last post I devised a way to counteract the horizon shift, or what is called "roll" in the gimbal.  When the gimbal started up a few degrees off, I had a knob on my remote to trim it to level it out.  Great.  That worked, until the copter turned or banked.  Then the horizon would be off again.  I can work around it if I'm doing separate "runs" of a target, or shooting stills.  That may be the only option in the cold.  Or perhaps I need to do a full calibration with my computer and copter out in the cold.
Since the roll fix, and subsequent other issues appeared, I'm now in the pandora's box scenario.  I've been in gimbal tuning hell.  I'm learning more though, and hopefully the end result (which is hard to envision right now), will be the highest quality aerial photos and video possible.