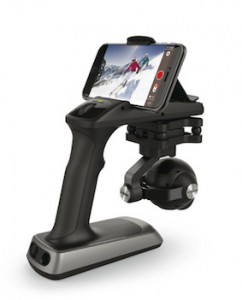 Yuneec Announces Launch of Typhoon ActionCam
Handheld Camera Produces Professional Grade Ground Shots While On-The-Go
ONTARIO, CA (November 10, 2015)– Yuneec International, the world leader in electric aviation, today announced the release of the Typhoon ActionCam, a handheld camera stabilization platform that ensures ground shots are as smooth as the ones taken from the air.
The Typhoon ActionCam combines the impressive CGO3 camera gimbal with a handle for stable ground footage, allowing consumers to record videos and take photos like never before. When using the Typhoon ActionCam, the camera stays level regardless of shaky hands or wobbling and is an ideal tool for capturing life's moments with unparalleled detail.
The included CGO3 camera boasts impressive 4K resolution, four times higher than HD, 12 megapixel still images and slow motion 1080p/120fps video. The 115-degree field of vision and no-distortion lens are additional features allowing for professional grade content capturing. The Typhoon ActionCam features a run time of up to 90 minutes and is compatible with previous Typhoon camera gimbals.
"The Typhoon ActionCam is designed to extend Yuneec's advanced camera technology from the sky to the ground. The ergonomic design allows you to take part in the action while capturing ultra-stable footage, rather than recording the action from afar with a tripod," said Shan Phillips, CEO of Yuneec USA.
The camera pitch controller enables precise camera angle control and is conveniently placed where the thumb naturally sits on the handle. Additionally, the Typhoon ActionCam displays real-time footage from a mobile device of up to 6.4 inches, and is controlled by the easy-to-use CGO3 smartphone app. The CGO3 app allows users to record video, take still shots and operate camera settings conveniently.
The Typhoon ActionCam includes a CGO3 camera, 1400mAh LiPo battery and smart charger. The device will be available on November 10, 2015 for the suggested retail price of $549.99 USD. For more information, visit www.yuneec.com.