The Award-Winning Typhoon H Offers Professional Capabilities at an Unprecedented Price
ONTARIO, CA (March 15th, 2016) — Yuneec International, the world leader in electric aviation, has announced that its award-winning Typhoon H is available for pre-order starting today at consumer electronics retailers, popular online stores and specialized outlets world-wide. First customer deliveries will begin in two weeks. Originally unveiled at CES 2016, where it won numerous top awards, Typhoon H redefines the enthusiast drone. Pricing is set at a highly competitive suggested retail price of $1,299. Also, for a limited time, Typhoon H is being offered with a free Wizard controller, enabling team operation and GPS tracking of a subject.
"We're excited to bring our game-changing Typhoon H to market, opening access to creative possibilities previously only available in expensive professional platforms. Now, anyone can capture incredible aerial footage like never before," said Yu Tian, chief executive officer of Yuneec International. "It's our most advanced consumer drone ever, setting a new standard in capability and value, while being ready, easy and safe to fly."
An all-new six-rotor airframe provides a solid platform for the full 3-axis, 360-degree gimbal, and the new CGO3+ camera. In addition, the landing gear retracts during flight allowing unobstructed panning for breathtaking 4K videos and 12 megapixel stills. The Typhoon H also adds new flight and image capture modes including Point of Interest, Orbit, Curved Cable and Journey. Innovative new safety features include ultrasonic proximity detection to prevent collisions with obstacles, and a failsafe system allowing Typhoon H to remain stable and land if a motor should fail.
An additional benefit is the compact and user friendly design. Quick-disconnect propellers allow speedy installation and removal, and each rotor arm quickly folds down from its flight position for easy and compact transportation. Carbon fiber is used extensively to decrease weight while increasing durability.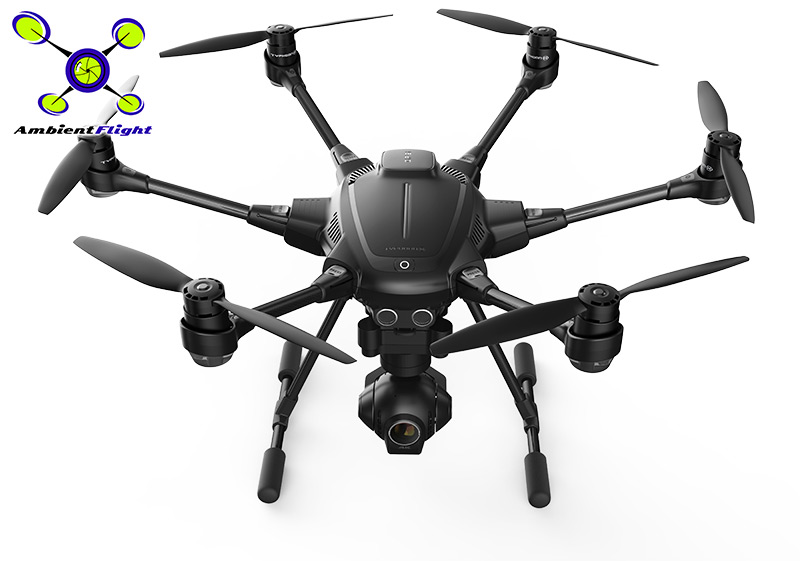 Typhoon H comes with the professional quality Android-based ST16 controller, including a large 7-inch integrated display and HD 720p video downlink for stunning real-time video reception. An HDMI output allows external monitors and VR goggles to be used to monitor video. Available separately, an ST12 or Wizard controller can additionally bind to the Typhoon H for Team Mode, which allows one controller to operate Typhoon H and the other to operate the camera.
With the ability to add mission-specific modules, Typhoon H is the next generation compact platform for enthusiasts and professionals. To be announced within the next 6 weeks is an Intel® RealSense™ Technology module, which uses advanced computer vision processing to enable Typhoon H to dynamically alter course as it encounters obstacles as small as tree branches, while enabling the camera to continue tracking the subject. Future add-ons will also include specialized gimbal cameras which can be easily interchanged on the go.
Typhoon H builds on established Typhoon family features such as Geo-fencing, Variable Control Response, Dynamic Return Home, Low-Battery Return Home and FAA No Fly. For more information visit www.yuneec.com. The Typhoon Q500 family of drones continues to be available starting at the suggested retail price of $499.99.