H520 Builds Upon Yuneec's Proven Six-Rotor Platform and Incorporates Industry-First Commercial-Grade Features and Software Developer Kit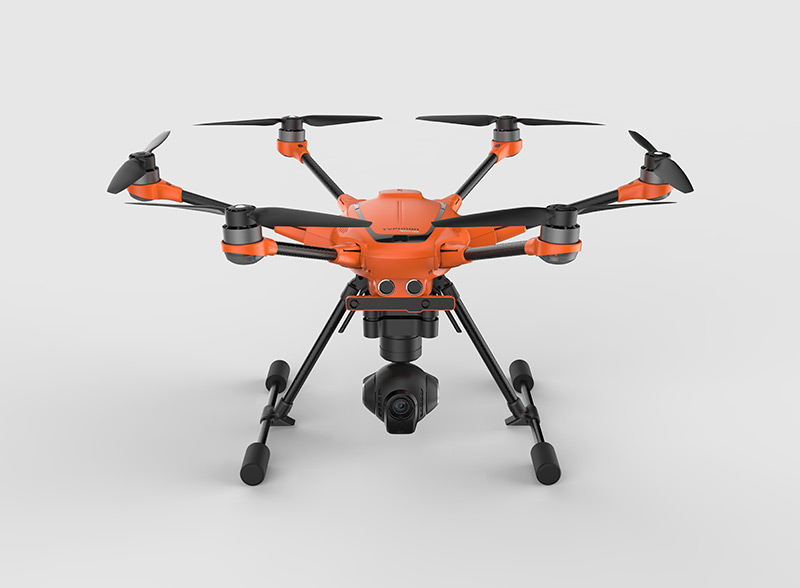 ONTARIO, CA (January 5, 2017) — Yuneec International, a world leader in electric aviation, today announced the expansion of its commercial UAV offerings with the unveiling of the H520, an advanced six-rotor drone for commercial applications. The H520 builds off Yuneec's proven six-rotor platform and incorporates industry-first commercial-grade cameras and applications for high-end commercial use. The H520 offers longer flight time, greater payload, modular design and enhanced components while staying true to Yuneec's standard of excellence in aviation precision and safety.
The H520, engineered for optimal use in industrial and commercial environments, features high visibility Hazard Orange fuselage and a six-rotor design capable of emergency flight with only five rotors. A 360-degree, 3-axis gimbal coupled with retractable landing gear provides an unobstructed view from any angle. The camera and gimbal are capable of a 20 degree up-angle for upward-looking inspections.
Yuneec will offer three camera options that include the CGO-ET dual thermal RGB camera, CGO-CI seven-element inspection-ready camera and CGO-3+. The CGO-ET is specifically designed for law enforcement, Search & Rescue and solar inspections applications and is the industry's first thermal and residual light combination. Targeting the broadcast, cinema, and vertical inspection markets, the CGO-CI's longer FOV and edge-to-edge distortion-free lens captures sharp, high-contrast imaging, which meets the needs of filmmakers and broadcast producers as it is the industry's first long-focal lens camera. Additional upgrades to the H520 camera options include a panoramic shooting function along with burst, time-lapse and metering modes.
"With its suite of advanced features, the H520 is dependable, reliable and capable of fulfilling virtually any commercial need," said Yu Tian, Group CIO and CEO of Yuneec Technology Co., Ltd. "Pilots can fly with confidence knowing they have an array of camera options for a variety of situations and industry-leading safety features including intelligent obstacle navigation with Intel® RealSense™ Technology."
Challenging angles and locations are more accessible with the safety backup of Intel RealSense Technology, a feature found on the H520, which enables the aircraft to intelligently navigate around objects, taking safety and flying options to the next level. Coupled with the industry's only user-variable speed control, pilots can confidently approach critical structures without concern of impact.
The H520 comes with the professional-grade Android-based ST16 controller, which has a large 7-inch integrated display and HD 720p video downlink for real-time video reception, and an HDMI uplink for distribution to external monitors
Yuneec will launch a software developer kit (SDK) platform in Q2 of 2017. The SDK platform allows third-parties to develop value-added applications and services on the H520 platform for a variety of industries and commercial markets.
The H520 maintains Yuneec's focus on safety with features such as Geo-fencing, Variable Speed Control, Dynamic Return Home and Low-Battery Return Home. The H520 will be available Q2 of 2017 and will be offered in a variety of configurations with prices ranging from $2499 to $4499For more information visit www.yuneec.com.