I've been having a blast making "cinematic" videos with my new slow flying cinewhoop. It is a GepRC CineLog35 V2 HD.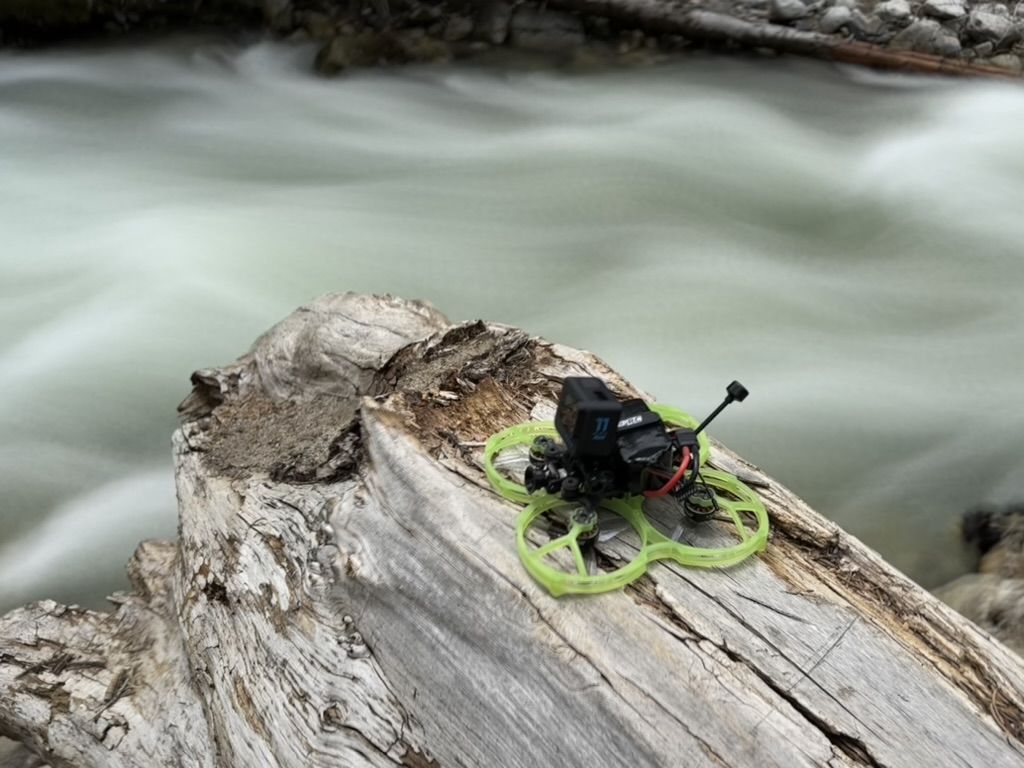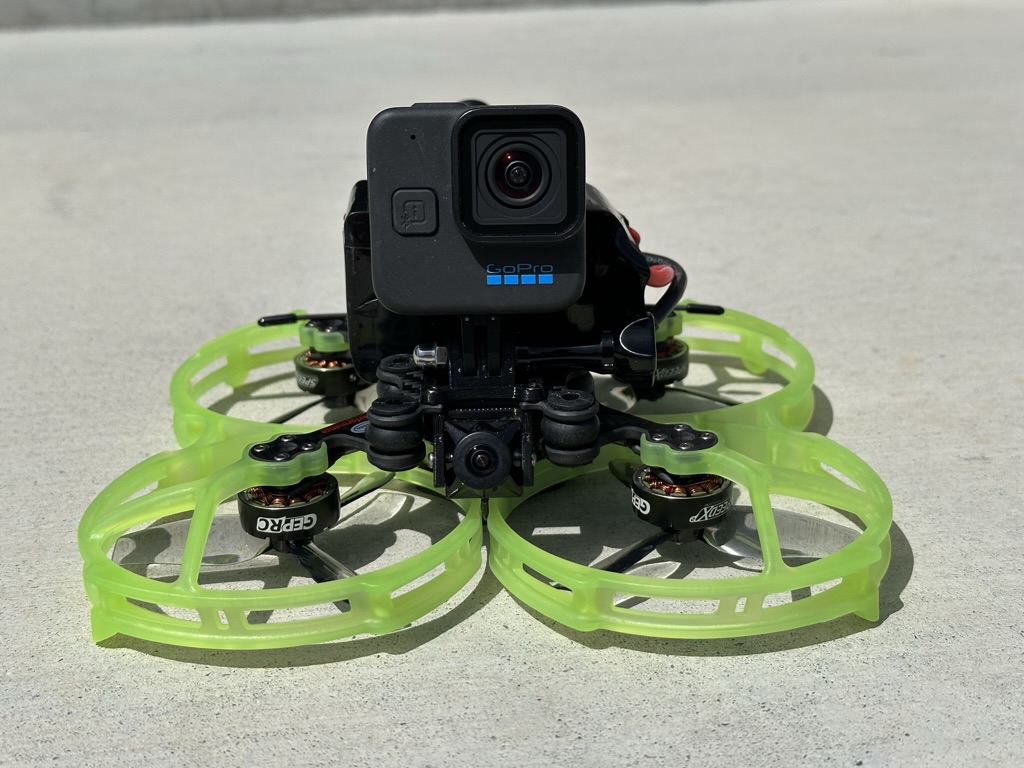 Here's a sample video of the CineLog in action. This video has been very popular on twitter, over 60K views. This was only my 3rd flight with the drone and with a GoPro mounted.
AutoFlight launches in the US with two senior aviation industry-leading appointments
Global eVTOL pioneer AutoFlight has opened a US office in Napa County, California
Appoints Eviation Aircraft co-founder and former CEO Omer Bar-Yohay and Joby Aviation's former Business Development Lead Chad Cashin
As President, Omer will lead AutoFlight's operations while Chad becomes the company's Chief Commercial Officer
AutoFlight plans to launch its first US flights in the coming months
Napa County, CA (5th October 2022): AutoFlight, the global eVTOL pioneer, today announces the opening of its first US office at Napa County airport in California.
Its expansion is supported by the hiring of two senior industry veterans. Omer Bar-Yohay (co-founder and former CEO of Eviation Aircraft) has been appointed as AutoFlight's President, while Chad Cashin (formerly leading Business Development at Joby Aviation) assumes the role of Chief Commercial Officer.
One of the team's first tasks will be to achieve a successful transition flight of its air taxi, dubbed, Prosperity I, over US soil, which it plans to accomplish in the coming months.
In June AutoFlight released its latest video of Prosperity I featuring a new design with upgraded lift & cruise configuration, optimized lifting propellers, and enhanced hover and cruise performance. AutoFlight has successfully completed over a hundred full transition flights of its aircrafts in 2022 and is well on route to continue expanding the flight envelope and maturing its European Union Aviation Safety Agency (EASA) certification program.
Prosperity I is designed for short transfers between parts of a city, airport commutes, connecting two nearby cities or enabling trips to the countryside while avoiding traffic on the ground. When ready for commercial flight in 2025, it is expected that a trip that takes hours by car will be reduced to about 10 minutes with Prosperity I, without being any less safe or more expensive than a car taxi ride.
Omer Bar-Yohay, President of AutoFlight said:
"The AutoFlight name is synonymous with simplicity, safety, and getting things done. I'm delighted to be joining this fantastic team. Chad and I have been welcomed with open arms, and we're excited to support our new colleagues on their inspiring journey to unlock the skies for mass individual transport by creating safe, efficient, eVTOL aircraft that make economic sense too."
AutoFlight's US expansion is the latest in a list of milestones for the eVTOL innovator, which also includes the establishment of a European base in Augsburg, Germany, the appointment of Mark Henning (formerly of Airbus) as its European Managing Director, as well as $100 million investment from next-generation mobility investor Team Global.
I have a pile of lipo batteries that have gone bad and haven't been able to dispose of them properly. Most have a bad cell or two so they're dangerous to throw away or destroy. I needed a solution to discharge the lipos completely and found a cool article by Oscar Liang for a do-it-yourself discharger. I followed his spec, except I only made a 12 volt version instead of his version with a jumper to switch from 12 to 24 volts.  I have a cool little discharger (3rd image) for bringing batteries to storage voltage so any lipos I have that are over 12 volts I set them to 3s and let the discharger bring them down to the 12 volt range.  Then I slap the battery on my discharger and it will kill them quite fast.  After a few hours, or even overnight, the voltage on even a 6 cell is only around .01-.04 volts.  At that point I can just short the positive and negative wires together and finish it off.  Then I clip the plugs off and save them for other uses and the batteries are ready to be disposed of.
Being the geek that I am, I designed and 3D printed a little case to make it nice.  Here's the final product.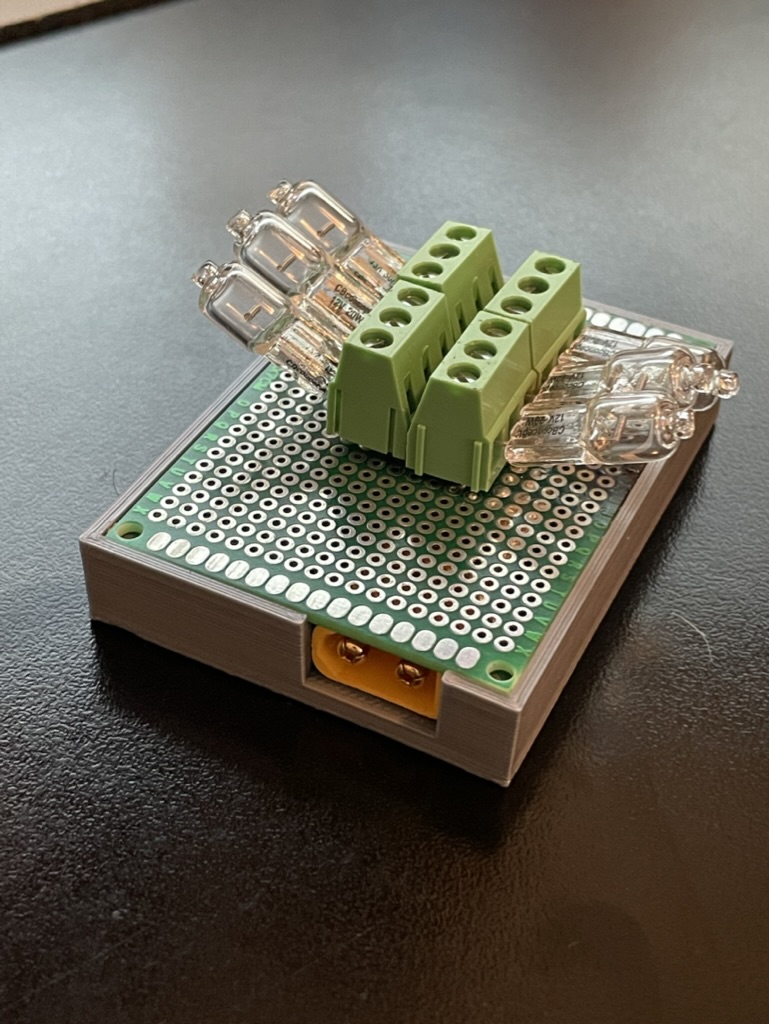 And here it is in action.  The lights start out quite bright and hot if the battery is up at 12 volts, but after a few seconds they dim as in the photo below.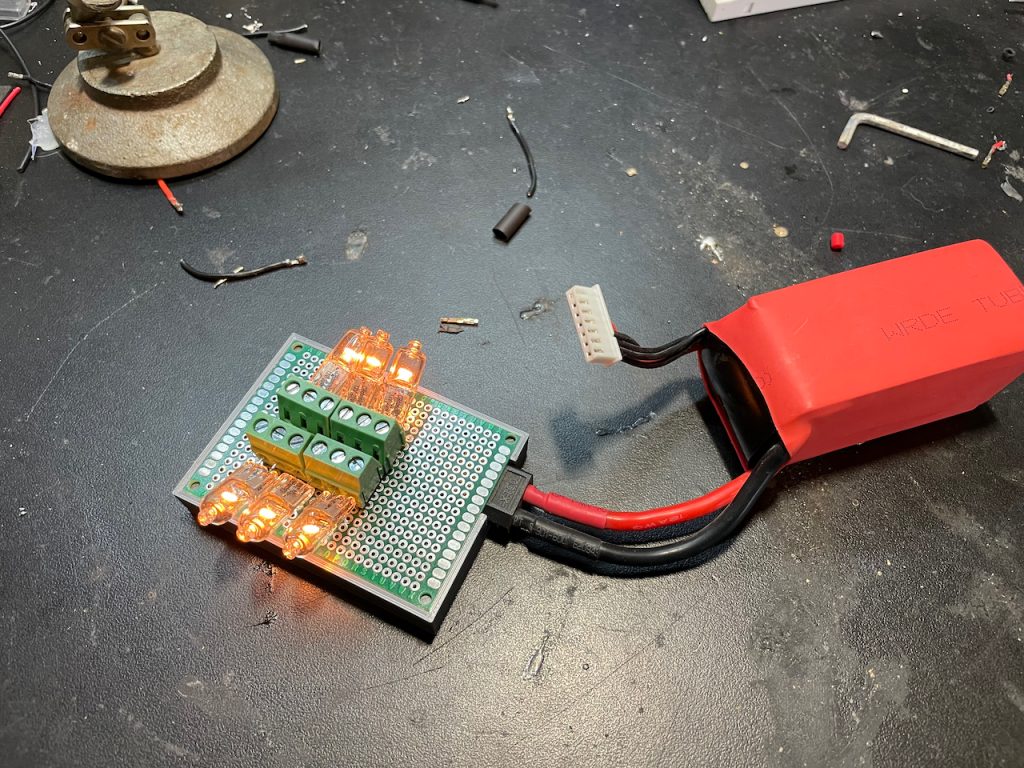 And below is the discharger which I bought at Pyrodrone for around 6 bucks. It has a little button to switch the values to 2s, 3s, 4s, 5s, 6s.  The battery I'm discharging is a 22 volt 6S which I've got down to 15.2 volts.