While on vacation with my family and my large hexacopter in the car, we stopped by for some hiking and sight seeing at the amazing red rock area Valley of Fire State Park, about a 40 minute drive northeast of Las Vegas. I had to pull over and take a picture of this sign.
Valley of Fire would be a goldmine for aerial photography and video. It would also be a terrible place to crash, either into the red rock or into tourists. I can completely understand why they have a no-drone policy and for those of us who fly I think these signs are going to become more and more common.
While at Utah's Snow Canyon State Park I talked to the park manager about drone flying there. She said they allow it via permit and that she was the one who have out those permits. A two week notice or more is needed to get the permit. When applying for the permit, information like where and when and for what purpose is required. She didn't say no, yet.
I was told that state parks have individual regulations with regards to drones, so before you go give them a call. You might have to jump through a couple of hoops but you may get the chance to fly and capture some great material. Be honest and upfront with them and they'll treat you with more respect.
Over 50 U.S. airports to participate in new pilot program to enable safer UAS flights.
Santa Monica, CA – AirMap, the world's leading provider of airspace information and services for unmanned aircraft, and the American Association of Airport Executives (AAAE), through the Airport Innovation Accelerator, announced today the release of the Digital Notice and Awareness System™ (D-NAS). D-NAS™ was created to allow UAS operators to provide airports with real-time digital information about the location of their flights.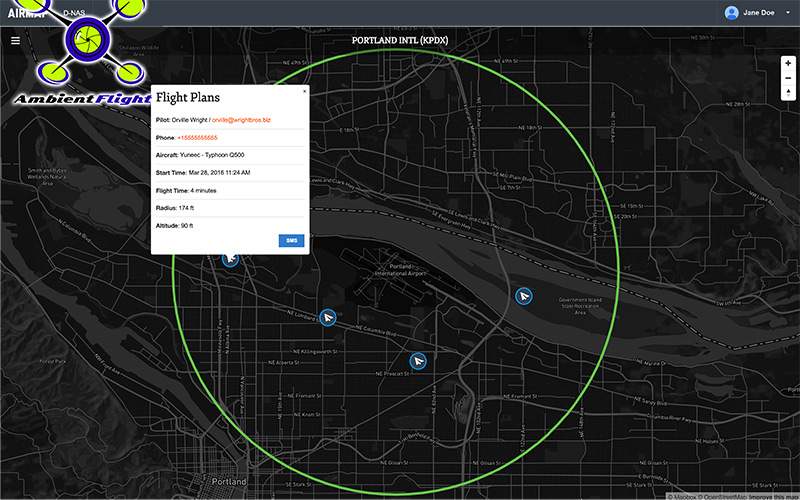 D-NAS works by allowing a UAS operator to send an encrypted digital flight notice to a secure dashboard at an airport's operations center. Flight information will be able to be submitted through many different UAS interfaces, including the flying apps provided by leading drone manufacturers DJI, Yuneec, and 3DRobotics. These connections facilitate the transmission of important safety-critical information to airports, including the GPS location of the UAS flight. Participating airports will access this information through the AirMap D-NAS dashboard, which provides a map view of flights in proximity to the airport and the option to contact the UAS operator directly.
"Safety has always been a priority for DJI," said Brendan Schulman, DJI's Vice President of Policy and Legal Affairs. "Providing our customers the capability to easily notify nearby airports of their flights is a huge step forward in convenience and functionality.  A high-tech notification system complements the safety features DJI builds into every drone, as well as DJI's close work with policymakers on practical approaches for drone technology." Yuneec CEO Tian Yu explained "We are excited to work with AirMap to improve the safety features of our products. As an airplane and helicopter pilot myself, I know first-hand how important it is to keep the national airspace system safe." Yuneec is the manufacturer of the popular Typhoon and Tornado series of multirotor drones and recently announced a $60M investment from Intel.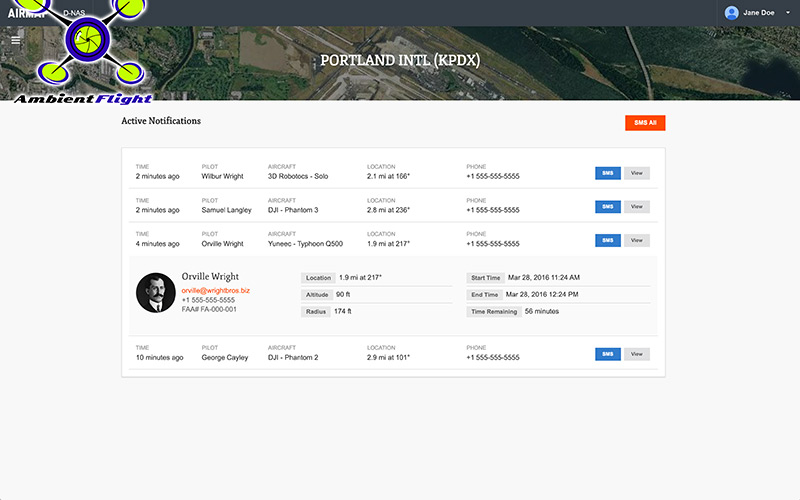 More than 50 airports across America have already joined the D-NAS pilot program, including Houston's George Bush Intercontinental and William P. Hobby airports, Denver International Airport, Columbus Air Force Base in Mississippi, Charlotte-Douglas Airport in North Carolina, Reno-Tahoe Airport in Nevada, New Castle Airport in Delaware, Cape May Airport in New Jersey, Fairbanks International Airport in Alaska, and the Oxnard and Camarillo Airports in Ventura County, California. "Participation in the D-NAS pilot was a no-brainer for us. In the face of growing concerns over UAS operations near airports, AirMap has developed an effective and unique solution," said Steve Runge, Division Manager for the Houston Airport System. "D-NAS is a game changer for how we will manage low altitude air safety."
D-NAS not only provides heightened awareness to airports; it also makes it easy for UAS operators to comply with Section 336 of the FAA Modernization and Reform Act of 2012, which requires notice to be given to airports within five miles of a drone's flight location.
Ben Marcus, CEO of AirMap and an airline transport rated pilot and flight instructor, said, "everyone involved in aviation sees the promise and potential of unmanned aircraft. However, we can't reach the potential of this amazing technology unless we ensure that safety critical information keeps pace with innovation. We are focused on building the tools for unmanned aircraft to safely integrate into the national airspace system."
D-NAS will be demonstrated at the 88th Annual AAAE Conference and Exposition held May 15 – 18, 2016 in Houston, Texas.
ABOUT AAAE
Founded in 1928, AAAE is the world's largest professional organization representing the men and women who work at public-use commercial and general aviation airports. AAAE's 5,000-plus members represent some 850 airports and hundreds of companies and organizations that support the airport industry. Headquartered in Alexandria, Va., AAAE serves its membership through results-oriented representation in Washington, D.C., and delivers a wide range of industry services and professional development opportunities, including training, conferences, and a highly respected accreditation program. Created by AAAE in 2015, the Airport Innovation Accelerator is a community to explore, discuss, and launch innovation in airports.
ABOUT AIRMAP
AirMap is the world's leading provider of airspace information and services for unmanned aircraft, commonly known as drones. Developed by experts in drone technology, aviation, and policy, AirMap's cutting-edge technology transforms airspace below 500 feet to create an interconnected drone ecosystem. AirMap provides accurate, reliable, and trustworthy low-altitude navigational data and communication tools to the drone industry: inventors of drones & drone technology, drone operators, and airspace stakeholders. AirMap has a rapidly expanding global network of hundreds of partners and thousands of app users.