I've been enjoying flying my 3-inch Acrobrat quad build. It's based on a 4s battery power and has a RunCam Split Mini camera. The Split captures HD video to an SD card. The upper frame section, which is what the camera attaches to, is not connected to the main frame by screws or direct plate to plate carbon fiber. Instead, there are four rubber grommets which help reduce vibration. That vibration reduction helps eliminate any vibrations or "jello" in the HD video from the RunCam Split mini. Ingenious!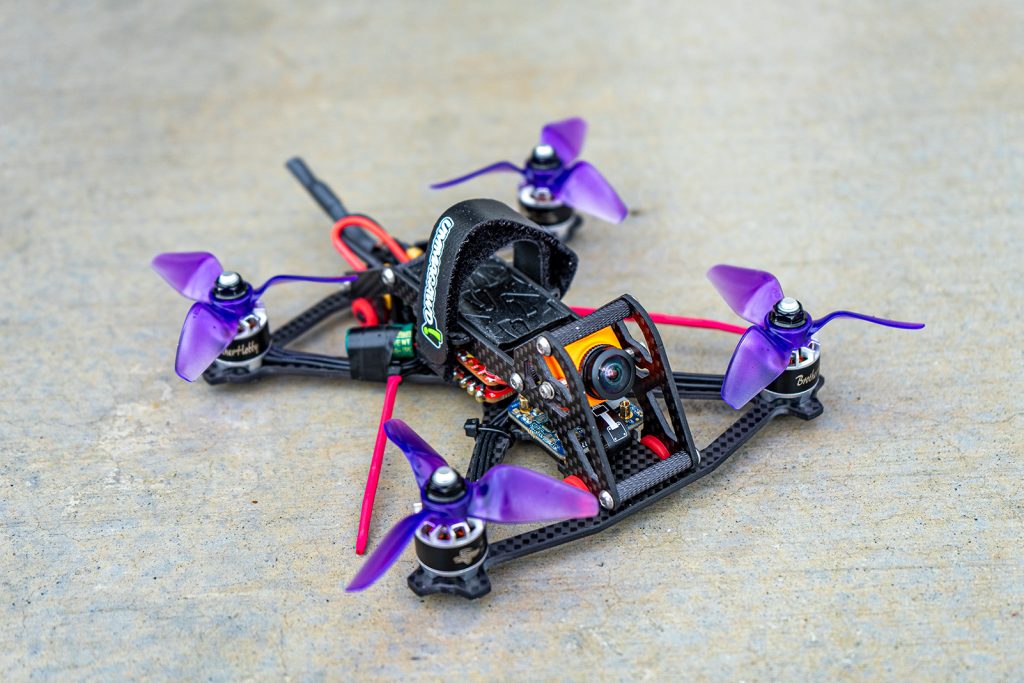 In the photo above of the finished product, you can see the rubber grommets in the lower front and lower rear section.  They're the round red parts.
Frame
As mentioned, this is the Ummagawd Acrobrat frame.  The main plate is 3mm bi-axial toray carbon fiber.  The side plates are 2mm CF and the top battery plate is 1.5mm.  Along with the red vibration dampeners, there are other color dampeners.  Each color has a different hardness. I started with the red and had good results, so I haven't even tried the others.
The motor to motor dimensions are 163mm.  Dry frame weight is 54 grams.  The motor bolt pattern is 12x12mm.
Camera
I chose a RunCam Split mini, but the frame could also work with a Caddx Turtle.  The split camera has a separate board which is mounted under it.  The board records to microSD and has buttons to configure and start/stop recording.
Motors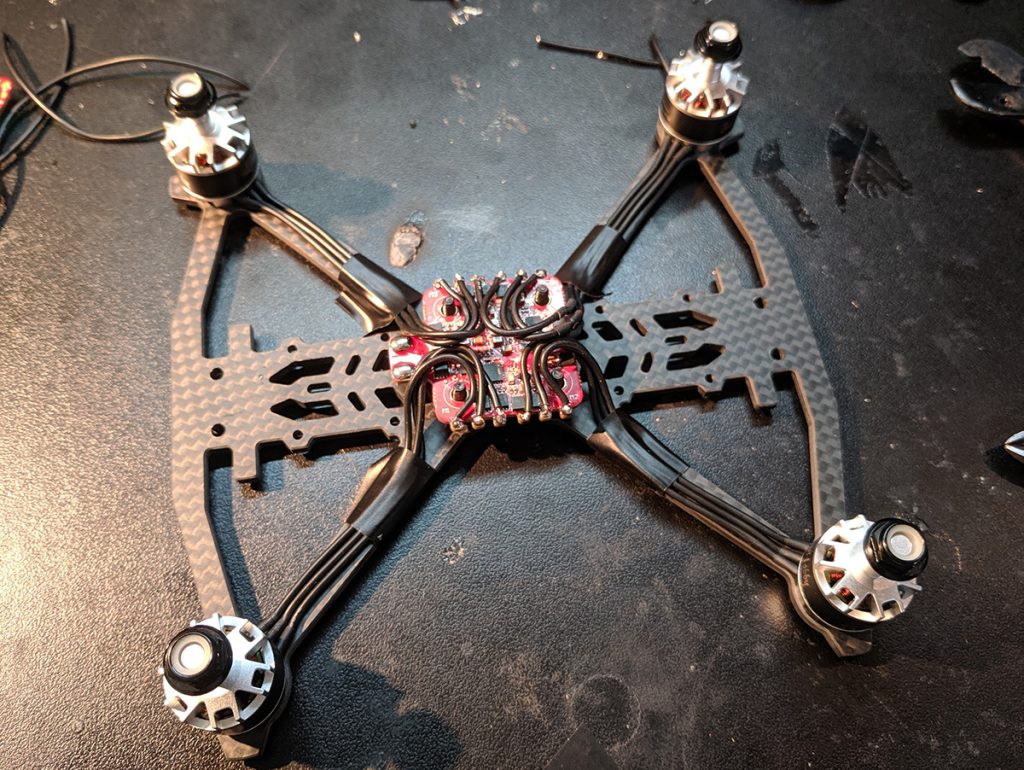 I'd heard a lot of positive feedback about Brother Hobby motors so I decided to give some a shot in this build. I went with their Tornado T1 1407 2800KV.  I've been very happy with them.  This was my first 4S build after flying 3S or less on everything else. I was happily surprised with the amount of power, speed, and responsiveness on 4S.
Flight Controller
I rolled with the HGLRC 20x20mm F4M3 OSD Flight Controller flight controller.  This F4 board features a black box, OSD, 20×20 mounting holes, and supports SBUS, which is my preferred receiver format.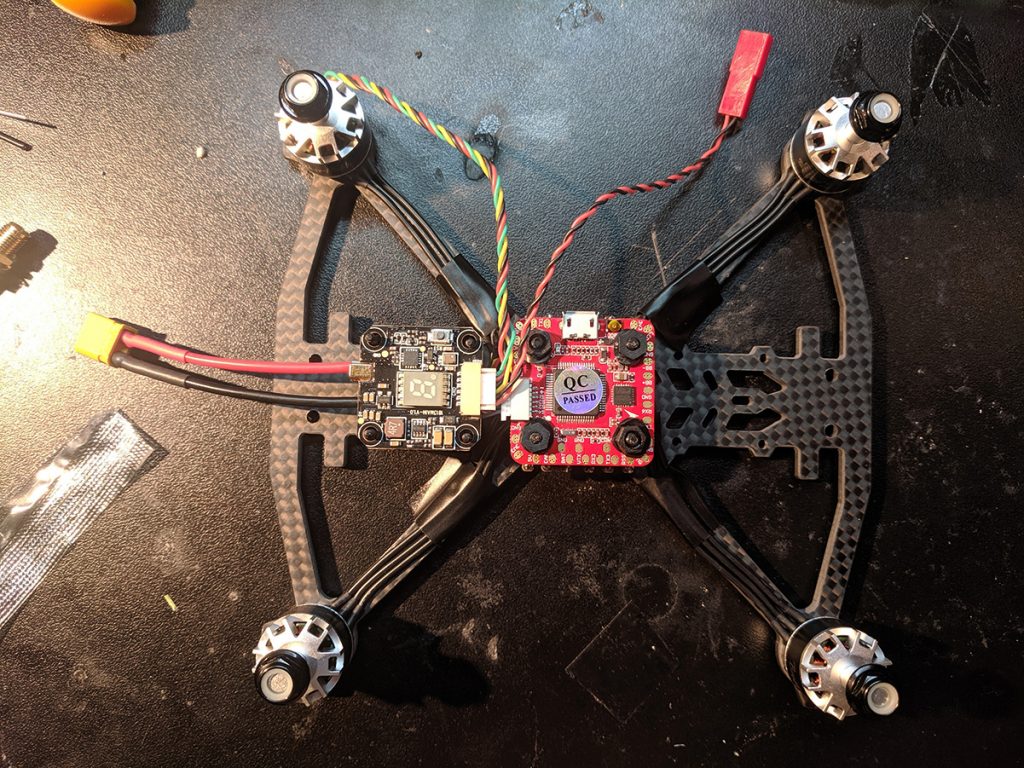 ESC
I chose the HGLRC D20A 20A 2-4S 20X20 4in1 ESC as it matched up well with the flight controller. It's 20amps with 20×20 mounting holes and runs the BLHELI_S firmware. It can run on 2-4S lipo power.
Video Transmitter
I kept with the HGLRC theme for my VTX.  The HGLRC Forward VTX Mini 25-350mW 20×20 VTX – MMCX has high level power filtering which produces a pretty clean video and a solid range. In the same amount of time I've been running this VTX, I've burned out two other AKK VTX's.
Antenna
I've been running a Team Blacksheep (TBS) Triumph.  The antenna is very durable and produces a clean video signal with a long range.
Props
So far I've been running Gemfan 3028 3-blade 3″ props.  They're quite pitched and provide a ton of power and responsiveness without producing video killing vibrations.
Sample Video
The video clip below was shot late in the day, to get an idea of lower light quality on the RunCam Split.  Also if you watch the whole video you'll see the quad go into failsafe mode.  Hehe.
Final Thoughts
The Acrobrat is fun to fly on 4S. It's responsive, agile, and solid. When paired with the RunCam Split mini, the Acrobrat produces decent quality video without the need of a GoPro or higher quality action camera. The video isn't as high quality as a GoPro, but is good enough for many FPV racing and freestyle flights.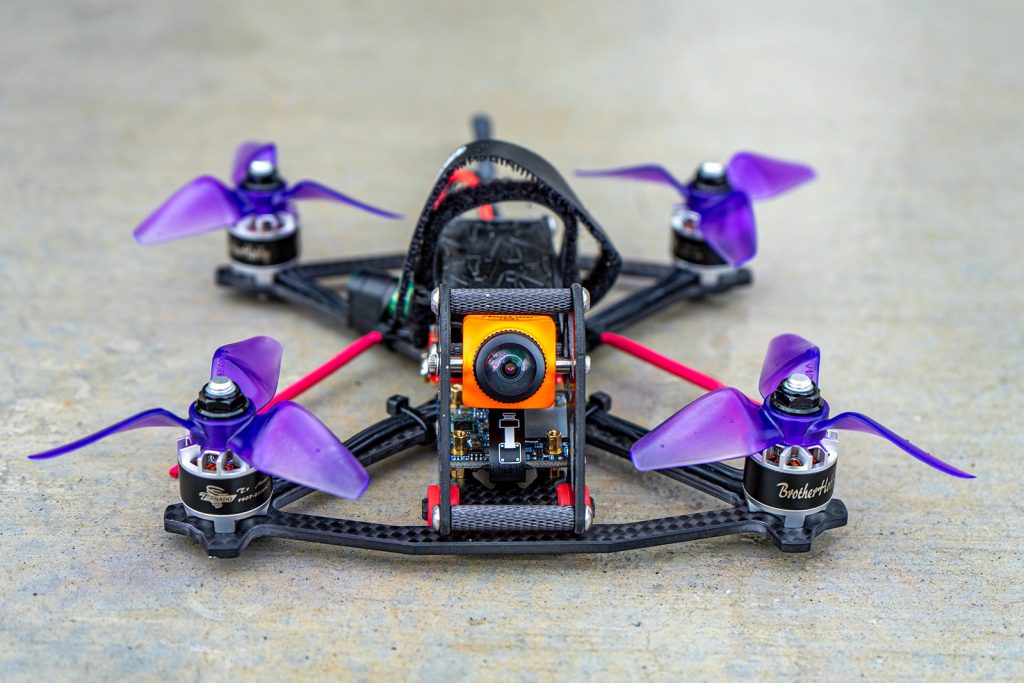 I've finally built my first 6S based FPV racing quadcopter.  After quite a bit of research I chose the Armattan Chameleon frame. It was highly rated and comes with a lifetime warranty.  Below is a shot of the main parts of the frame, after I got the motors and 4in1 esc wired. The bottom plate is solid, 4mm thick. I know it's possible, but to break this frame would mean a very hard crash into hard surfaces.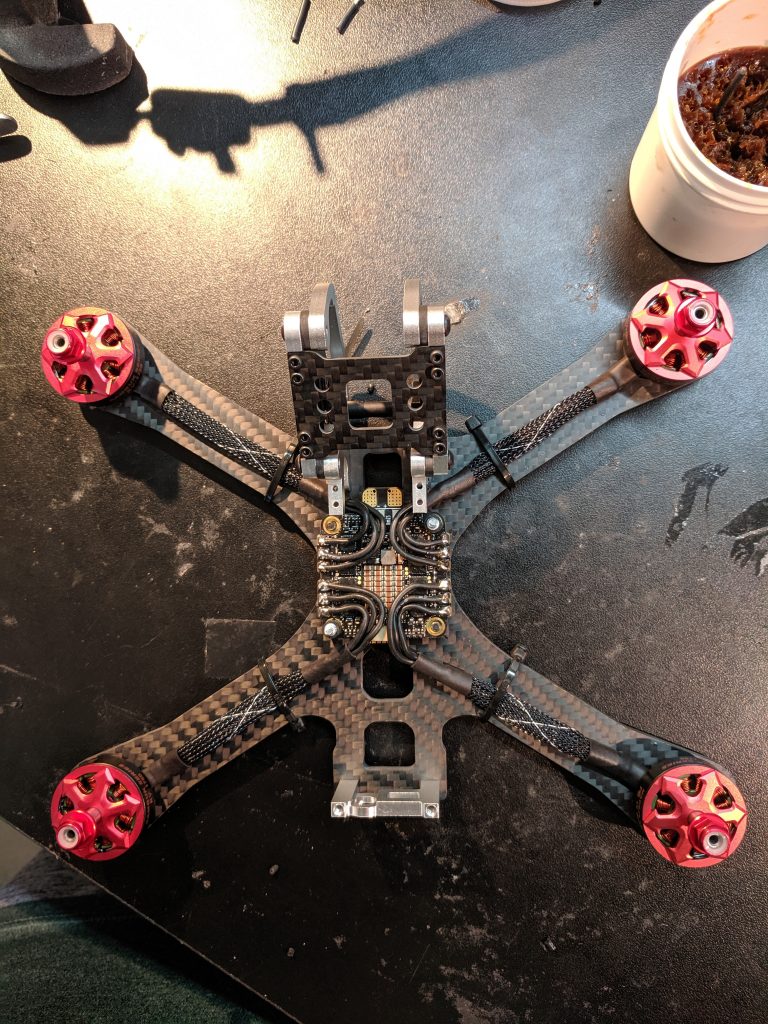 I thought there would be more room inside this, but there wasn't as much as I thought. So I had to tuck the receiver under the front behind the camera, and put the cap and video transmitter in the back. See below.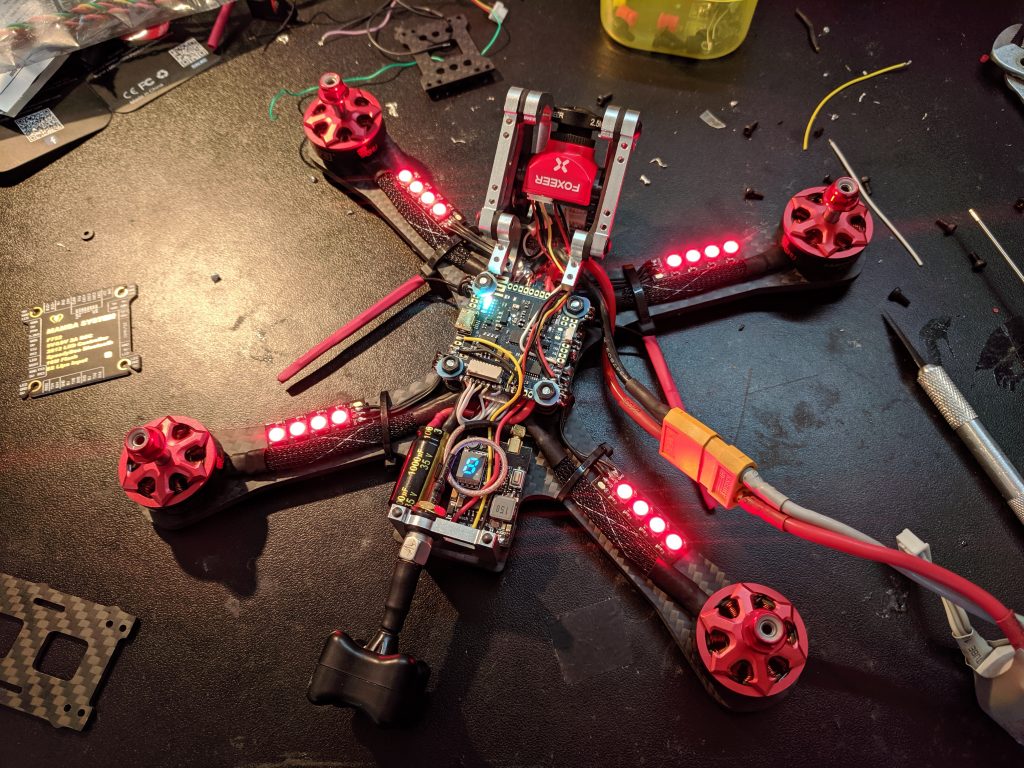 I went with a Foxeer Falkor 1200TVL Mini/Full Size Camera  but that's not what I would recommend. It doesn't fit correctly.  It "works" but is too wide.  Armattan used to recommend cameras for this but that recommendation has been removed from their website.
Parts List
Armattan Chameleon FPV Frame 5″
DYS Samguk Series Shu 2306 1750kv Motor
DALRC Rocket 45A 3-6s BLHeli_32 4-in-1 ESC
Diatone Mamba F722S Flight Controller
FrSky XM+ SBUS mini receiver
Foxeer Falkor 1200TVL Mini/Full Size Camera
16pcs HQProp 5×4.3×3 Tri-Blade Propeller 5 Inch
Lumenier AXII 5.8 RHCP
RDQ Mach 3 Video Transmitter 25-1000mW VTX 2-6S
Lumenier Digital RGB Arm LED Board
For batteries I'm currently going with the CNHL Black Series 1100mAh 22.2V 6S.  So far they're terrific. Tons of punch and provides long flight times.
Specs
| | |
| --- | --- |
| Frame Weight | 118g approx original.  Final beefed up main plate 128 grams approx |
| Motor to Motor | 220mm |
| Frame Shape | Freestyle Bus |
| Bottom Plate Thickness | 4mm |
| Top Plate Thickness | 2mm |
| Aluminum Parts | Aircraft Grade 6061 |
| Motor Mount Pattern | 22xx |
| Max Stack Height | 20mm |
| Warrantied Parts | All carbon fiber and alumi frame components |
Challenges
Soldering some of the pins on the Diatone Mamba F722S Flight Controller was a challenge. Super tiny.  I originally wanted to use a split type of camera like the RunCam Split.  I actually ordered a Foxeer Mix 2 but the extra board the camera comes with wouldn't fit.  Had I gone with separate ESC's mounted on the arms, perhaps that space in the FC stack would have worked, but I wanted to go with a 4in1.
In Flight
Having only flown up to 4S in the FPV world, the jump to 6S was quite stunning.  The amount of power this quad has is shocking.  I would not be surprised if this thing can hit 80-100mph.  Going back to flying my 4S or less quads is a bit of a shock now.  That raw power isn't there and because of that I've crashed a few times.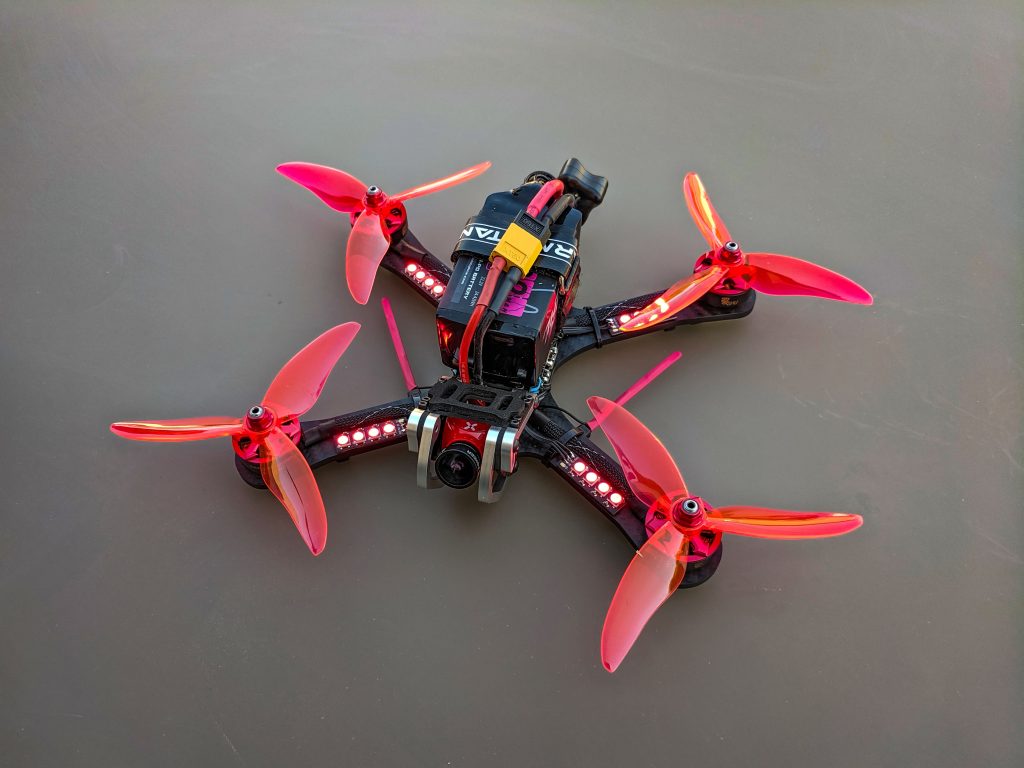 It's not just power and speed for this rig though.  If I want to fly very slow and smooth it is remarkably easy to control.  Perhaps that's also due to the F722S flight controller and the PID setup, but I haven't changed the defaults.  Quite amazing.
Flight Time
I'm used to flying FPV quads from around one to four minutes.  Amazingly this build is getting me SEVEN aggressive minutes and 10+ minutes of easy flying.  I'm extremely happy about that.
Needs Improvement
After a crash I'm noticing some noise in the video signal to the FPV goggles.  I've started to work on getting rid of that.  The noise only happens when the motors are on, leading me to believe it is dirty power.  The cap didn't clean it up, so I just moved it closer to the main voltage input.  I also have moved the power source for the VTX from direct battery to a 9-volt pad on the flight controller, along with supplying the 5-volt power to the camera from the VTX instead of the FC.  Weather permitting I'll do some tests shortly.
Final Thoughts
The Chameleon is super solid and flies incredibly. On 6S this this rips like no quad I've ever flown. Flight is smooth and the handling is terrific. I'll be mounting a GoPro Hero 7 soon. Can't wait to share some of that footage.
I should do a video of the week award.  If I had such an award, this video would win it hands down!  Check out the FPV video by Rotor Riot of the demolition of a power plant.  Whatever this setup was, I need to build one!