Award-Winning Typhoon H Plus with One-Inch Sensor and Enhanced Airframe Ideal for Photographers, Creative Professionals and Small Drone Service Providers
CORONA, Calif. (June 12, 2018) — Yuneec International, the world leader in electric aviation, today announced its award-winning Typhoon H Plus with Intel® RealSense™ will be available to consumers at Best Buy and Yuneec.com. Yuneec's most powerful consumer product, equipped with a professional grade one-inch sensor, an all-new hex airframe and intelligent obstacle navigation is optimized for photographers, creative professionals and small drone service providers.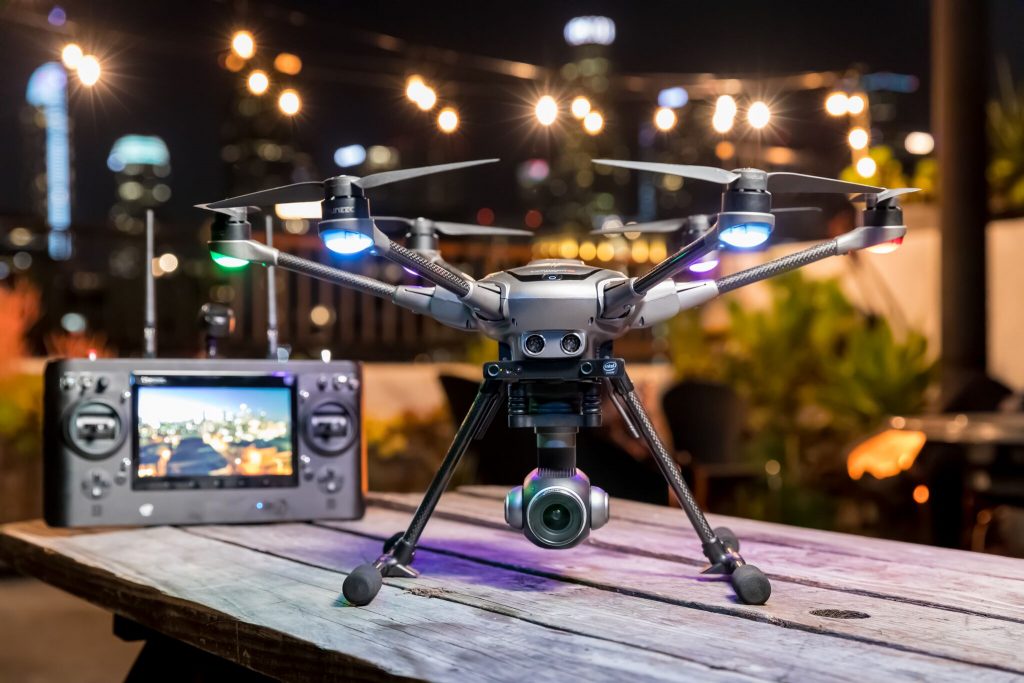 The Typhoon H Plus with Intel® RealSense™ is packed with professional image quality that photographers at any skill level will enjoy, including a high aperture one-inch sensor camera capable of 20 megapixel stills and 4K resolution video at 60 frames per second. The new model also boasts an improved low-light performance, thanks to larger aperture optics and extended ISO range, and comes standard with a continuous rotation gimbal combined with retractable landing gear that provides seamless 360-degree unobstructed views. The Typhoon H Plus with Intel® RealSense™ also has a variety of flight and image capturing modes, including Point of Interest, Orbit Me, Curve Cable Cam, Journey Mode, and Team Mode for film and photography teams.
"The H Plus with Intel® RealSense™ was developed to expand creative possibilities and these improvements underscore our commitment to developing industry-leading technologies," said Michael Jiang, CEO of Yuneec International. "Virtually every drone pilot has experienced varying flight conditions and faced challenging shot requirements in the field. The hexacopter airframe provides pilots with unrivaled stability, redundancy and allows pilots to effectively capture necessary shots with the improved one-inch sensor."
The Typhoon H Plus with Intel® RealSense™ features Yuneec's all-new, larger, highly stable six rotor hex airframe. With a 40 percent reduction in noise from previous hex models, and stable flight in winds up to 30mph, H Plus leads its category in safe, balanced flight and quiet operation. Along with enhanced stability, the six-rotor safety failsafe system allows Typhoon H to remain stable and land if a motor should fail.
The Typhoon H Plus includes Intel® RealSense™ Technology, a sophisticated collision avoidance system that detects obstacles and intelligently navigates around them. With this feature, drone pilots can worry less about obstacles and focus more on their flight path and camera work. Other innovative safety features include ultrasonic proximity detection to assist in avoiding large obstacles, which is operational when Intel® RealSense™ Technology is inactive.
Additionally, the Typhoon H Plus with Intel® RealSense™ is accompanied by a newly redesigned Android-based ST16S controller, which includes a large, high brightness seven-inch integrated display and HD 720p video downlink for stunning real-time video reception.
The Typhoon H Plus with Intel® RealSense™ Technology will retail at $1899.99 and be available on July 1 at Best Buy Stores nationwide.
For more information about Yuneec visit Yuneec.com Also visit us and join the conversation on Facebook, Instagram and Twitter.