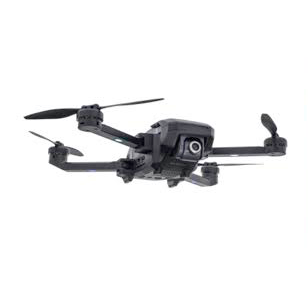 Mantis Q Boasts Category Leading 33-Minute Flight Time, Easy-to-Use Flight Controls and Advanced Flight Modes
CORONA, Calif. (August 14, 2018) — Yuneec International, the world leader in electric aviation, today announced its all-new Mantis Q, the latest extension of Yuneec's award winning consumer lineup, is now available for pre-order in the United States. Mantis Q is an adventure ready drone controlled via mobile device or remote, features voice control technology and is small enough to tuck away inside a bag. The Mantis Q also features foldable arms for optimal portability and convenience, up to 33 minutes of battery life and autonomous flight modes with top speeds over 44 miles per hour. Due to its portability, ease-of-use and superior flight time, the Mantis Q is ideal for adventurers, families and drone enthusiasts. Now available for pre-order on Yuneec.com, the Mantis Q starts at a suggested retail price of $499.99.
"The Mantis Q was developed to offer cutting edge, advanced drone features such as voice control and facial detection in an easy-to-use, ultra portable package," said Michael Jiang, CEO of Yuneec International. "Consumers will find that the Mantis Q seamlessly integrates into everyday experiences, and they will appreciate the incredible energy efficient package that allows up to 33 minutes of flight time to help capture every moment."
Voice Control
With the all new Voice Control feature, users can command Mantis Q just by using their voice. Voice control allows users to take a photo or begin recording video all without having to manually take their hands off of the controls, making it that much easier to capture the perfect shot. Mantis Q responds to commands such as "Wake up" for powering on, "Take a picture", "Record a video" and "Take a selfie". It will also respond to the flight commands such as "Take off" to automatically start flying and then come up to a hover or auto-landing commands such as "Return home".
Facial Detection and Gesture Control
Other notable features of the Mantis Q include its facial detection and gesture control. Users simply smile at the drone to activate face detection and as soon as the Mantis Q "sees" the user's face, it will take a photo from up to 13 feet away. In Gesture Control mode, Mantis Q will detect a hand waving and it will take a photo.
Capture your adventures in stunning 4K
Using an integrated camera, the Mantis Q records high resolution photos and videos. Pictures with a resolution of 4800×2700 (16:9) or 4160×3120 (4:3) pixels are saved in JPEG or DNG format on the included MicroSD card; the same goes for up to 4K of recorded videos. In up to Full HD (1920×1080), they are electronically stabilized live. The camera can be tilted upwards by up to 20 degrees or downwards by 90 degrees during flight. For cinematic camera flights, the Mantis Q also comes with automatic flight modes such as Journey, Point of Interest and Orbit Me.
Category-leading flight time and ultra-portable design
Thanks to its energy-efficient design, the drone can stay in the air for up to 33 minutes, allowing pilots plenty of time to record great photos and video clips. When folded together, the Mantis Q measures just 6.6 x 3.8 x 2.2 inches and weighs just 1 pound. It's the ideal companion for big and small adventures alike.
Indoor and outdoor flying
Unlike most in its class, Mantis Q comes equipped with advanced indoor stabilization technology. Down-facing dual sonar sensors and infrared detection make it safe enough to fly indoors and outdoors. Users also have the option to fly Mantis Q with and without the added controller.
Fast-paced fun while flying
If users want to experience the thrill of drone racing, they can switch to the Mantis Q's Sport Mode. The Mantis Q can fly up to a maximum speed of 44 miles per hour – and that's all while performing with the agility of a real racer. The live image can be viewed with a latency of less than (200ms) on a smartphone which is connected to the remote control.
The Mantis Q is available now for pre-order at Yuneec.com.
Mantis Q – $499.99: Mantis Q, controller, one battery, spare propellers (one set) three-port charger, power and USB cable.
Mantis Q (X-Pack) – $649.99: Mantis Q, controller, three batteries, travel shoulder bag, spare propellers (one set), three-port charger, power and USB cable. Available later this year.
For more information about Yuneec visit Yuneec.com.
Also visit us and join the conversation on Facebook, Instagram and Twitter.