While construction slowly (very slowly) goes on with my big hexacopter, I'm still working on my little bird for aerial photos and video.  The little bird being a DJI Phantom 1.2 with an Arris CM3000 3-axis gimbal.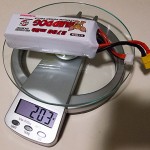 I did two test flights yesterday, both with the heavier MadDog 2700mAh battery.  That battery is bigger and more heavy than the stock battery, and seems to make a big enough difference in weight that the Phantom drifts vertically and horizontally.  I also have heavy wobbling and shaking, making video unusable.  That's the exact description of yesterday's first flight.  Also as part of the test in the first flight were four hard rubber isolation grommets, as opposed to the very soft ones I've had decent results with lately.  Once again, bad vibes.
I've finally gotten my hands on a decent blade balancing rod for the capped Phantom 2 propellers I put on the bird.  I switched to these props because the craft has more lift and efficiency with them, as well as double the flight time per battery or more.
I did a rough propeller balance after yesterday's first flight, and also changed two of the four hard grommets back to soft.  This flight was massively better with only a small fraction of the flight producing vibrations or wobbles.  The problem, and the lesson, is that I changed TWO different things on the bird.  So I don't know if the change in grommets or the blade balancing was the source of the improvement.  It is also possible that both combined made the difference.
Today's first test flight (if there is one) will have to be blades balanced with four hard grommets and the heavier battery, since I don't want to unbalance the props.  Then based on those results I may modify the grommets for the next test.
Following, perhaps a test with the lighter, original DJI batteries.
I had good results with the soft grommets, but they're so soft I'm afraid the whole gimbal may fall off during flight.  It has come loose during transport in its case.